welcome to
UMA PHARMATECH MACHINERY
Manufacturer of Fermenter Bioreactor For Pharmaceutical API Bulk Drugs, Bio fertilizer, Bio pesticides, probiotics, enzymes Manufacturing Plant Turnkey Solution and Lab Equipment Like Rotary Flask Shaker, BOD Incubator, Vertical Autoclave, Electric Steam Generator, Ribbon Blender Powder Mixing Machinery
Manufacturers of Fermenter and Bioreactor For Industrial, Pilot Scale, Laboratory
Fermenter For API Manufacturing
Fermenter manufacturers play a critical role in the quick-paced industry of producing APIs (Active Pharmaceutical Ingredients). These specialized businesses are crucial in the creation of high-quality, dependable, and effective fermenters, which are necessary for the fermentation procedure in API production. We will examine the numerous factors that contribute to fermenter manufacturers' success in this cutthroat business as we delve deeply into the importance of these companies for the production of API.
Fermenter For Biofertilizer Manufacturing
Manufacturers of fermenters are essential to the production of biofertilizer. Their area of expertise is the design and manufacture of specialized fermenters, which aid in the fermentation of microorganisms and manufacture high-quality biofertilizers. These manufacturers guarantee top-notch machinery, abide by industry standards, and provide tailored solutions to address the particular requirements of biofertilizer manufacturing.
Fermenter For Enzymes Manufacturing
Manufacturer of fermenter and Bioreactor are crucial to the production of enzymes. They offer specialized fermenters that help microorganisms grow and ferment to produce enzymes. These manufacturers support a variety of industries, including food, pharmaceuticals, and biofuels, by providing high-quality machinery, adherence to industry standards, and customized solutions to fulfil the particular needs of enzyme synthesis.
Fermenter For Biopesticides Manufacturing
Manufacturers of fermenter are essential to the production of biopesticides. They offer specially designed fermenters that promote the development of advantageous microorganisms necessary for the synthesis of biopesticides. These specialized producers guarantee top-notch tools, adherence to industry norms, and creative answers to satisfy the particular needs of Bio Pesticides production Plant.
Bio Plastic Manufacturing
Fermenter manufacturers play a crucial role in Bio Plastic manufacturing. They design and produce specialized fermenters that facilitate the fermentation process of microorganisms, converting renewable feedstock into sustainable Bio Plastics. These manufacturers ensure high-quality equipment, adherence to industry standards, and customized solutions to meet the unique needs of Bio Plastic production in Bioreactor.
Bioreactor For Aqua Culture Product Manufacturing
Manufacturers of fermenters are crucial to aquaculture. They offer specialized fermenters for fostering the development of advantageous bacteria utilized in aquaculture systems. These manufacturers support sustainable and effective fish and seafood production by ensuring high-quality equipment, adherence to industry standards, and customized solutions to satisfy the unique requirements of aquaculture processes.
Bioreactor For Probiotics Manufacturing
Manufacturers of Bioreactors are essential to the production of probiotics. They construct and manufacture specialized fermenters with the right conditions for probiotic microorganisms to thrive and ferment. These Suppliers make sure that the best tools are used, that industry regulations are followed, and that solutions are tailored to the particular requirements of Fermenter For producing probiotics , which promotes digestive health and general wellbeing.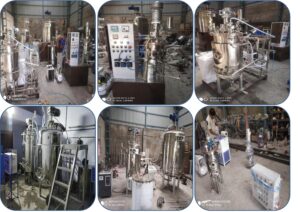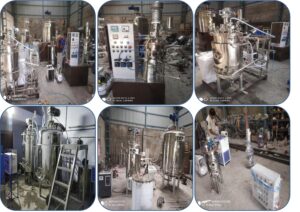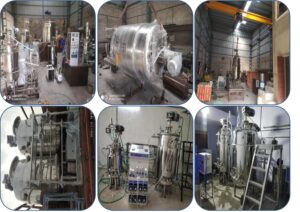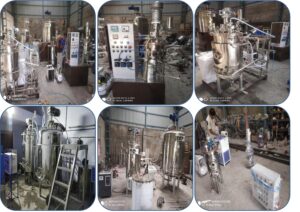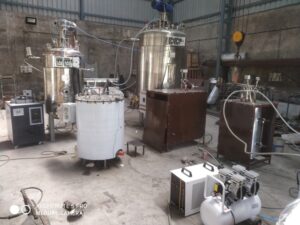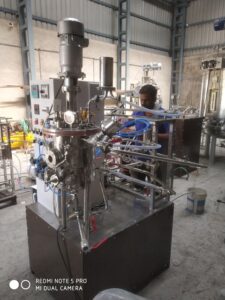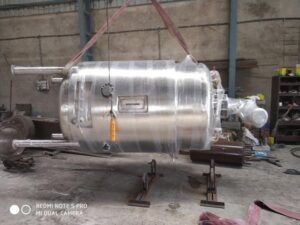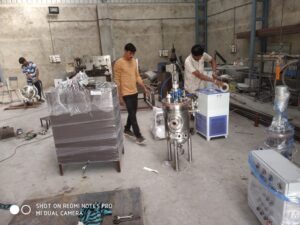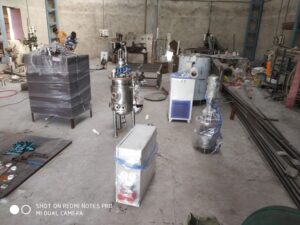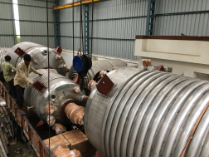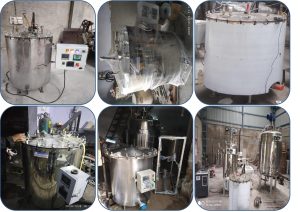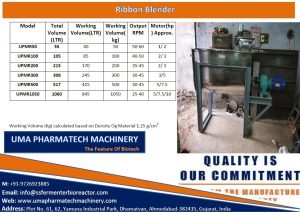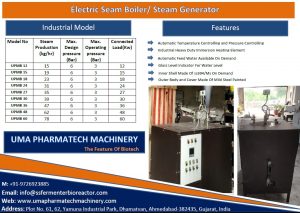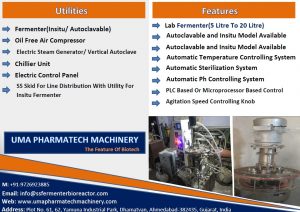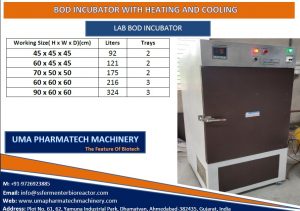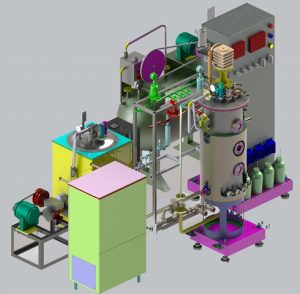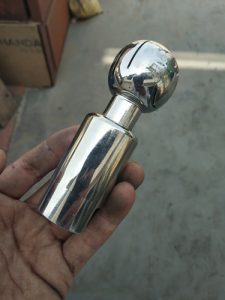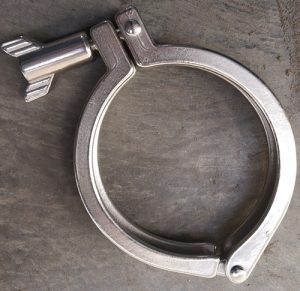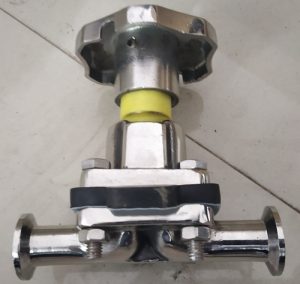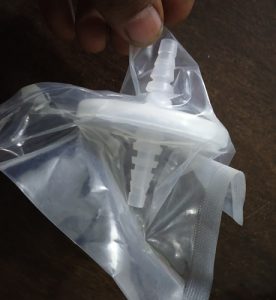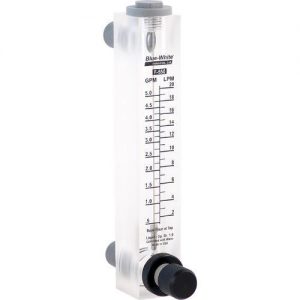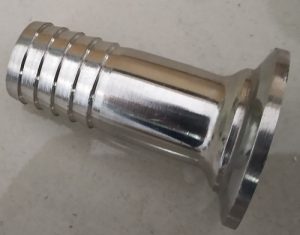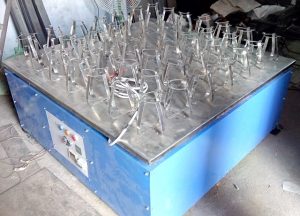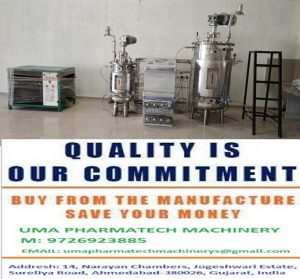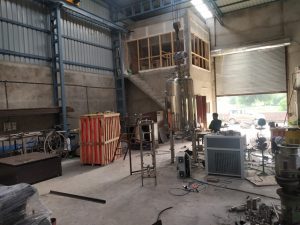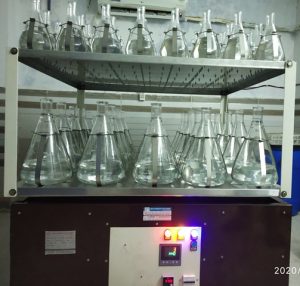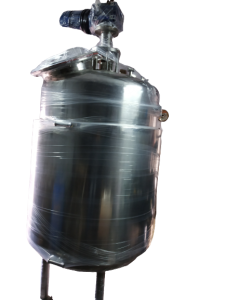 Uma Pharmatech Machinery Is one of the Trusted Manufacturer of industrial Fermenter, laboratory Fermenter, Pilot Scale Fermenter, production fermenter.

We are Manufacturing Laboratory Fermenter For Research Institute and Colleges. Generally Lab Fermenter Made of Glass Body Fermenter and Bioreactor. This Glass Fermenter are Autoclavable fermener. We Also Manufacture In situ Fermenter for Lab Scale. For In situ Fermenter Require Electric Steam Boiler For Media Sterilization. We Provide Total Setup For Lab and Pilot Scale Fermentation System.

UPM Pilot Scale Fermenter Comes With utilities Like Chiller, Electric Steam Boiler, Oil Free Air Compressor, ss Fermenter, Skid, Control Panel Etc..

Uma Pharmatech Lab Fermenter Is Very Compact Design with Skid Based In situ Fermenter System.  Our pilot scale and lab Scale Fermenter Comes With Automatic fermenter Controlling Of ph, Temperature, Pressure, Sterilization, Process and Many More.

UPM Pilot Scale Fermenter Made Of Stainless Steel With SS316 Grade Contact Parts. Non Contact Part Made Of Standard Fermenter/ Bioreactor Made Of  SS304 For production Fermenter/Bioreactor and industrial Fermenter System.
COMPROMISE IN FERMENTATION TECHNOLOGY IS COMPROMISE WITH BIO PROCESS



Uma Pharmatech Machinery Provide Life Science Machinery Like Fermenter, Bioreactor, SS Reactor, SS Mixing Tank, Bod Incubator, Rotary Shaker, Vertical Autoclave Sterilizer, Pilot Scale Fermenter, Production Fermenter, Industrial Fermenter, Lab Fermenter, Glass Bioreactor, Ribbon Blender, Agitator For Reactor, Vessel and Agitator , SS Reactor, Limpet Coil Reactor, Jacketed Reactor, Biofermenter, Bio Fertilizer Manufacturing Plant, Bio Pesticides Manufacturing Plant, API Manufacturing Plant, Enzymes Manufacturing Plant, microbial Enzymes Manufacturing, Probiotics Manufacturing Plant and Machinery, Chemical Reactor, Agrochemical Vessel and Fermenter, Turnkey Solution For Biofertilizer, API, Bio Pesticides, Enzymes, Probiotics, Vaccine Etc.
Supplier of Fermenter and Bioreactor in India
We Umapharmatech Machinery Supply our plant and machinery to West Bengal, Uttar Pradesh , Punjab, Gujarat, Haryana, Madhya Pradesh , Assam, Andhra Pradesh, Karnataka, Chhattisgarh, Tamilnadu, Telangana, Rajasthan, Maharashtra, Pondicherry, goa, Mizoram, Nagaland, Uttarakhand, Sikkim .
We Supply fermenter and bioreactor in Gujarat and its cities like Ahmedabad, Vadodara, Surat, Rajkot, navsari, ankleshwar, Bharuch, vapi, Morbi, Valsad.  
UPM Manufacture pilot scale fermenter and supply in Maharashtra and its cities like  Nagpur, Mumbai, Aurangabad, Nashik, pune, Jalgaon, Kolhapur, Amravati, Ahmednagar, Nanded, Latur, Akola, Solapur, thane, Jana, samara, wardha, bhusaval, Malegaon, Kalyan  , Ratnagiri.
We Supply  Lab Fermenter and glass/ ss Fermenter in Tamilnadu and its states like, Chennai, Coimbatore, Madurai, Tiruchirappalli, Tirupur, Salem, Tirunelveli, Erode, Vellore, Thoothukkudi, Dindigul, Thanjavur, Ranippettai, Sivakasi, Karur, Hosur, Nagercoil, Karaikudi, Neyveli, Cuddalore, Kumbakonam, Tiruvannamalai.
Uma Pharmatech Machinery Produce Industrial Fermenter, Stainless Steel Fermenter, Laboratory Fermenter and bioreactor for various application of enzymes manufacturing in india. We are Providing Third Party Manufacturing Facility For Enzymes, agriculture, Aqua culture, API and many more.
Manufacturers Of Fermenter and Bioreactors in India
Uma Pharmatech Machinery Supply and Distribute high quality industrial and pilot scale fermenter and bioreactor in Punjab. we supply our fermenter in Punjab  and its cities like Jalandhar, Ludhiana, Amritsar, Mohali, Haryana, Bhatinda. Uma Pharmatech Machinery Supply industrial and Laboratory Fermenter For Biotech And Biofertilizer Industry in Haryana. UPM Supply Pilot Scale Fermenter In Faridabad, Panipat, Gurugram, Ambala, Panipat, Yamuna Nagar, Rohtak, Hisar. Panchkula, Sirsa, Revari.
Suppliers Of Fermenter Bioreactors
Uma Pharmatech Machinery Manufacture Fermenter For Api Manufacturing In Ahmedabad. Our Manufacturing Unit For Biofertilizer and Biopesticide Manufacturing in Ahmedabad, Gujarat. We Distribute Our Fermenter In Ahmedabad, Anand, Surat, Navsari, Rajkot, Valsad, Ankleshwar, Bharuch, Bhavnagar, Junagadh, Vadodara, Gandhinagar, Nadiad, Morbi.
Exporter Of Fermenter and Bioreactors
Uma Pharmatech Machinery Export fermenter Setup For Biofertilizer Production and Bio pesticide Production. UPM Export Fermenter Bioreactor in Japan, Canada, France, Greece, Australia, Iran, Turkey, Indonesia, Brazil, US, UAE, Oman, Qatar, Russia, Nigeria, Netherland, Australia, Tanzania, Spain, Vietnam, Mexico, Philippines, Poland, Thailand, Egypt, Saudi Arabia, Germany, Belgium, Algeria, Argentina, New Zeeland, Myanmar, Russia, Serbia Etc…
Manufacturer of Reactor Vessel and Agitator For Industrial
We Also Manufacturers of Reactor and Vessel For Agriculture, Chemical, Dyes, Fertilizer, Pigments, Colors, Pharmaceutical API, Beverages, Intermediates. We Manufacture High Efficient Agitator For Industrial Reactor With Low Power Consumption. Uma Pharmatech Deal In Stainless Steel Reactor Manufacturing and Supply In India. We Expertise In Reactor/ Agitator Development Using Key Features and Calculation Of Power Of Agitator. We Have Number Of Impellers and Turbine Design, Which Make Easy Mixing Of Slutty, Dyes and Chemicals. UPM Deal In Powder Mixing Equipment's Like Ribbon Blender, Paddle Mixer, Sigma Mixer, Detergent Mixer, Granules Mixer, Masala Mixer, Chemical Powder Mixer Etc…
UPM Manufacturers of Laboratory Equipment Like Rotary Shaker, Vertical Autoclave, BOD Incubators,  Bio fermenter For API, Enzymes, Probiotics, Biofertilizer and Biopesticides.
Uma Pharmatech Machinery Also Supply Fermenter Bioreactors In Andhra Pradesh, Assam, Bihar, Chhattisgarh, Gujarat, Haryana, Jharkhand, Karnataka, Madhya Pradesh, Maharashtra, Odisha, Punjab, Rajasthan, Tamilnadu, Telangana, Tripura, Utter Pradesh, West Bengal, Kerala, Uttarakhand.
Purchase From Manufacturer of Fermenter
10 Out Of 10
Uma Pharmatech Machinery
Fermenter Bioreactor-350 Litter
Automatic Pilot Scale Fermenter System