Industrial Production fermenter
Upm Industrial Production Fermenter is Design To Meet Pharmaceutical and Biotech Industries Application. Uma Pharmatech Industrial production fermenter and bioreactor is Used In Various Production Unit Like:
probiotics Manufacturing, Biofertilizer Manufacturing, Bio Pesticides Manufacturing, Antibiotics Manufacturing, and Many More.
Indian Exporter Of Fermenter and Bioreactors
For Manufacturing Of Production scale Fermenter Uma Pharmatech Machinery Gives Best and Affordable Solution For Bio Process Engineer. We Have More Than 15+ Years Of Experience in Research, Design, Innovation, and Manufacturing, Export From India, if industrial fermenter implementation of production fermenter in this bio engineering Field and bio fermenter manufacturer in Gujarat.
Uma Pharmatech Machinery Is gives complete plant project for fermenter and bioreactor with all utilities for pilot and production scale. UPM Industrial Fermenter is very Easy To Operate and Make Batch For Microbiologist & scientist.
Uma Pharmatech Gives Automated Batch Record and Data Logging Facilities in PLC Programmable Control System For Industrial and Pilot scale Bioreactor or Fermenter.
Fermenters are specialized containers designed to make it easier to grow cells or bacteria under controlled circumstances. They're also known as fermentation tanks or vessels. In these tubes, bacteria have an excellent environment in which to carry out metabolic processes that culminate in the production of enzymes. Bioreactors are more advanced systems that use agitation, aeration, and pH regulation to maximize enzyme synthesis while maintaining microbial growth. These advancements have drastically altered the enzyme manufacturing process.
UPM Provide Service For Industrial fermenter for various old designed fermenter and renovate to new and advances design automated fermenter. This services Help To Customer For Sell old Fermenter To Use With Latest Advanced Design Automatic Fermenter For Production Scale and Industrial Scale.
Fermenters and bioreactors are utilized for process optimization and feasibility studies at the pilot stage. These systems enable parameter fine-tuning and process optimization by bridging the gap between laboratory-scale research and full-scale manufacturing. Scientists and producers can test various growth conditions, improve medium formulations, and evaluate the general viability and scalability of enzyme manufacturing processes using pilot-scale fermenters and bioreactors. Laboratory bioreactors are essential for producing enzymes in the lab, where initial research and development take place.
We Supply bioreactor for pilot scale and production scale  fermentation system with automatic Controlling.
Working with reputable and experienced suppliers helps maximize the capacity of fermenters and bioreactors to synthesize enzymes. There are numerous different suppliers of fermenters and bioreactors designed for enzyme manufacturing facilities on the market, though specific business names won't be included in this article. Since these suppliers are aware of the specific needs of the enzyme manufacturing business, they offer cutting-edge products and services to guarantee top performance and productivity.
It is Necessary to take into account elements like the supplier's track record, proficiency in bioprocess engineering, quality assurance methods, and after-sale support when selecting suppliers for a biofertilizer and enzyme production plant. Examining customer feedback and testimonials can provide insightful information about a supplier's standing and customers' contentment.
Uma Pharmatech Machinery's legacy stretches far beyond the bustling streets of Surat. As an industrial fermenter manufacturer in India, their influence resonates throughout the nation's industrial heartlands. From the pharmaceutical hubs to the burgeoning biotech clusters, their fermenters become catalysts for progress, fostering a culture of self-reliance and technological evolution.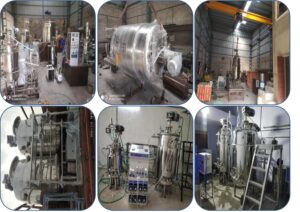 Cost of Fermenter For Industrial 1000L-100L
Considering the cost of fermenters goes beyond financial considerations. It's an investment in progress, innovation, and industrial advancement. Uma Pharmatech Machinery understands this profound impact, offering fermenters that embody not only engineering excellence but also the potential for transformative change across sectors.
The producers of laboratory fermenters are a significant force in India's scientific and industrial scene. They are experts in creating state-of-the-art fermentation machinery, promoting progress in biotechnology, pharmaceuticals, and research. To advance India's advancement in a variety of scientific fields, these manufacturers demonstrate knowledge, ensuring quality, innovation, and effective solutions.
Download Quotation of Lab Fermenter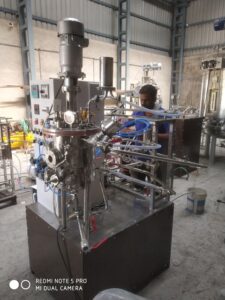 Specification of Insitu SS Fermenter For Laboratory
·       10 Litter SS Fermenter

·       Pt-100 Temperature Sensor and  Digital Temperature Measurement System

·       Mini Oil Free Air Compressor(1 Hp) Suitable For 10 Litter Fermenter

·       Air Flow Control Through Rota meter

·       Electromagnetic Agitator Speed Control Knob (RPM Controller) with control panel

·       Electric Steam Generator (All Ms Body-50Litter Tank with Water Level Tube)(Manual Feed Water-6kw)

 

1 Nos

Automatic Ph. Measurement & Control System

1 Nos

Extra Cost On Request

Do Sensor(Indian Made)

1 Nos

Extra Cost On Request
10L SS Fermenter With Oil Free Air Compressor and Electric Steam Boiler unit
Agitation Stirring Arrangement
Top Mounted Agitator Shaft With Lab Seal and 2 Nos Adjustable Ruston Turbine
PMDC Motor(RPM 1200)
DC/Ac Drive For Agitator Speed Controller Knob
Aeration Control System
Air Flow Rota meter With Manual Flow Control Valve
Pressure Control System
Pressure Regulator For Process Pressure Control
Digital Temperature Measurement System
Pt -100 Temperature Sensor For Accurate Temperature Measurement
Digital Temperature Indicator
Control Panel
Powder Coated Control Panel With Various Panel Mounted Accessories, Instruments and Controller
Fermenter Construction and Specification
Total Volune:10 Litter
Working Volume:70% Of Total Volume
L/d Ratio : 1: 1.5 to 2.5
Contact Part: SS 316L
Non Contact Parts: SS 304
Contact Part: SS 316L
Outer Finish : Matt Finished
Inner Finish : 220 Grit Finish
Motor : PMDC
Max. Output RPM Speed : 1200
Speed Controlling: Using Micro controller
Temperature Sensor : PT-100 Type(Sterilizable)
Temperature Controlling System : PID Control Digital Display
Air Inlet Filter : 0.2 Micron PP Filter
Air Outlet Filter : 0.2 Micron PP Filter
Air Outlet : Through Shell Tube Type Condenser ( Heat Exchanger)
Spurger  System : Ring Type Air Spurger System At Bottom
Mechanical Seal : For Zero Contamination and Reduce Air Leakage
Baffle : 4 Nos( Size Vessel Dia/10)
 Adjustable Impeller : 2 Nos Of Adjustable Ruston Turbine( Six Blade)(Vessel Dia/3)
In India, pilot scale fermenter manufacturers are vital catalysts for innovation. They produce advanced fermentation systems, crucial for scaling up biotechnological processes. These manufacturers drive research, bridging the gap between lab experiments and large-scale production, bolstering sectors like pharmaceuticals and biofuels, and contributing significantly to India's scientific and economic growth.
Specification of Pilot Scale Fermenter
What is The Price Of Fermentor and Bioreactor?
Price Of Pilot Scale Fermenter is Depends Of Capacity Of Fermenter and Automation Require In Fermenter. Basically Main Feature With Semi Automatic 500 Litter Fermenter Start From 16Lac + GST(Without Boiler, Chiller, Ph , Compressor). Uma Pharmatech Machinery Is One Of The Best Fermenter Manufacturer in India With Affordable Price. Uma Pharmatech Machinery Made Pilot Scale Fermenter With (500L+50L+Chiller+Steam Generator + Compressor + PLC Controlling System + Skid + Ph Control System + Temperature Control System + Agitation Speed Control + Pipeline Structure Skid ) = 36Lac+18%Gst
Main Three Types Of Fermentor is Used In Microbiology and Pharma Industry 1) Laboratory Fermenter System 2) Pilot Scale Fermentor Plant 3) Industrial Fermentor Bioreactor