Industrial fermentation plant manufacturer
In India For industrial fermentation plant manufacturer Uma Pharmatech Machinery Is One Of The Trusted Place To Developer Your Fermentation System. We Provide Low Cost Fermenter With All Fermentation System As Per Customer Requirement In India. Our Fermentation System Used In Various Industries Biochemical, Pro bio tics, API Bulk Drug, Vaccine, Protein, Prebiotic, Food and Beverage etc..
UPM Provide Total Solution For Fermentor Under One Roof. UPM Fermenter Design Is Very Unique From Other Fermenter Manufacturers. We Have More than 10+ Years Of Experience in  design of fermenter. UPM Fermentation Tank is Made Of SS 316L Material For industrial fermenter. We are Provide Total Fermentation Equipment's Like Boiler, Chiller, Compressor, Agitation, Aeration.
List Of Fermenter Manufacturing Companies in India
1. Uma Pharmatech Machinery(Ahmedabad, Gujarat)-M:+91-9726923885, Email:
[email protected]
2. fermenter, Shaker, Autoclave MANUFACTUR (UMA PHARMA|fermenter|bioreactor|shaker|Autoclave| M: +91-8866137364 3. fermetner shaker bioreactor fermentor ribbon blender M: +91-9033404554
Manufacturer of Fermentation Plant
In order to develop microorganisms and produce desired products like enzymes, antibiotics, vaccines, and biofuels, fermentation processes require the usage of fermenters, which are essential pieces of equipment. These cities' fermenter manufacturers provide a broad selection of fermenter systems built to accommodate various industry demands.
the existence of bioreactor and fermenter manufacturers in Mumbai, Chennai, Bengaluru, Hyderabad, Ahmedabad, Surat, Kolkata, Pune, Jaipur, Indore, Vishakhapatnam, Lucknow, Bhopal, Nagpur, Nashik, Vadodara, Amritsar, Agra, Kanpur, Chandigarh, Madurai, Varanasi, Patna, Kochi, Aurangabad, Jodhpur, Faridabad.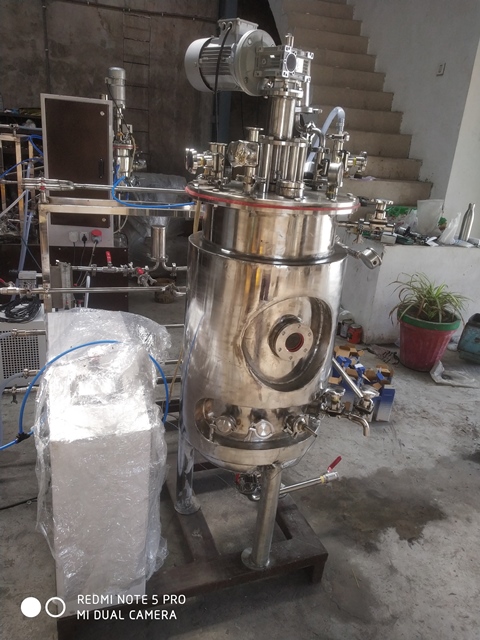 Large Scale Fermenter Manufacturer
UPM Agitator For Fermenter Is Very Unique and Prover Design For Industrial Fermenter. We are Provide Double and Single Mechanical Seal For Zero Contamination in Fermenter. Uma Pharmatech Machinery Made Industrial Fermenter Prize is very low for biofertilizer manufacturer. Because Of Low cost Biofertilizer Can Manufacture In UPM Fermenter Because of Inbuilt Heating System.
Fermenters and lab bioreactors are essential instruments for biotechnology and scientific study. Many producers, suppliers, and exporters in India satisfy the expanding need for these laboratory tools. To help researchers and lab professionals locate the best equipment for their needs, this article strives to offer useful information on the top lab bioreactor and fermenter manufacturers, suppliers, and exporters in India.
Lab Bioreactor Manufacturers in India:
Many reputed lab bioreactor Manufacturers with state-of-the-art products for bioprocessing and scientific research are based in India. These producers focus on creating top-notch lab bioreactors with cutting-edge features and capabilities. To provide exact control over environmental factors including temperature, pH, agitation, and dissolved oxygen, they make use of cutting-edge technologies.
Product reliability and quality are given top priority by these Indian manufacturers of lab bioreactors. They uphold strict quality standards, enabling academics and biotech businesses to confidently carry out tests. These manufacturers provide a variety of bioreactors that can handle different quantities and purposes, whether it be for small-scale study or large-scale production.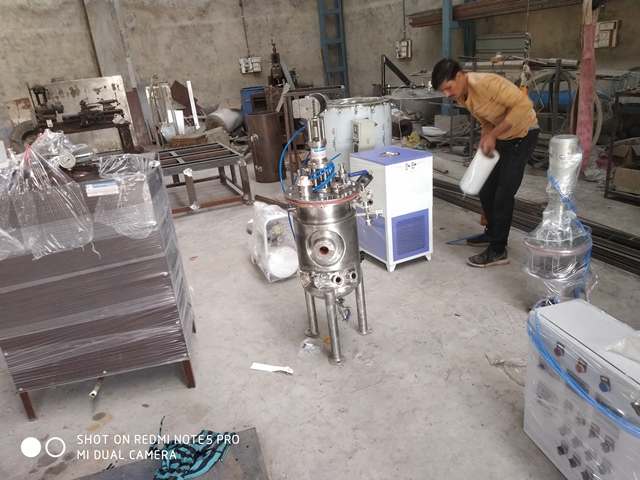 Industrial Fermentation Tank Manufacturer in India
Insitu Industrial Fermentation System With all Utilities Like Chiller, Oil Free Air Compressor, Electric Steam Boiler, Lab Scale Fermenter, Glass Fermenter.
UMA PHARMATECH MACHINERY  Have capacity to manufacturing Total turnkey industrial process plants for fermentation processes by engineering, manufacturing and Automation system for the fermenter. Production  scale manufacturing Capacity each have their own necessities, We offer continuity through Intelligent Bio Engineering capability.
Customer Can Make low Bio fertilizer prize in UPM Fermentation System. Uma Pharmatech Machinery Fermenter system is Best for Biofertilizer Production Like rhizobium biofertilizer, azospirillum biofertilizer, azotobacter biofertilizer, pseudomonas fluorescents biofertilizer, bacterial biofertilizers,  zytonic m bio fertilizer, liquid biofertilizer, fungal biofertilizers, psb biofertilizer, nitrogen fixing biofertilizers, azotobacter fertilizer, biofertilizer in paddy field, phosphobacteria biofertilizer, organic bio fertilizer, acetobacter biofertilizer, rhizobium fertilizer, Trichoderma biofertilizer, pseudomonas biofertilizer, mass production of rhizobium.
Pharma 

API Plant Manufacturers in Gujarat

We Have Special Design For API Manufacturing Plant At Low Cost Fermentation System. This System Include
SIP System
CIP System
Ph Automation
Zero Contamination Free Mechanical Seal
Dissolve Oxygen
Asseptic Sampling and Harvesting
Automatic Innoculation
Recipie Facilities
Weight Controlling
Temperature Controlling.
Cost Of Api Manufacturing Plant
Upm main manufacturing facility establishment in Ahmedabad, Gujarat, India.
We deliver our product and service in Andhra Pradesh, Tamilnadu, Madhya Pradesh, Maharashtra, Karnataka, Punjab, Gujarat and all over India.
UPM main unit for industrial fermenter manufacturing is in dhamatvan, Ahmedabad, Gujarat -India. We supply our product industrial fermenter in India most states like Maharashtra, Tamilnadu, Andhra Pradesh, Karnataka, Punjab, Rajasthan, Uttarakhand, Madhya Pradesh.
Uma Pharmatech Machinery's legacy stretches far beyond the bustling streets of Surat. As an industrial fermenter manufacturer in India, their influence resonates throughout the nation's industrial heartlands. From the pharmaceutical hubs to the burgeoning biotech clusters, their fermenters become catalysts for progress, fostering a culture of self-reliance and technological evolution.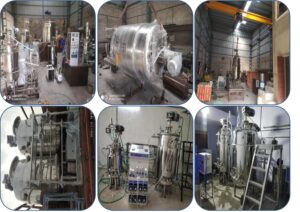 Cost of Fermenter For Industrial 1000L-100L
Considering the cost of fermenters goes beyond financial considerations. It's an investment in progress, innovation, and industrial advancement. Uma Pharmatech Machinery understands this profound impact, offering fermenters that embody not only engineering excellence but also the potential for transformative change across sectors.
The producers of laboratory fermenters are a significant force in India's scientific and industrial scene. They are experts in creating state-of-the-art fermentation machinery, promoting progress in biotechnology, pharmaceuticals, and research. To advance India's advancement in a variety of scientific fields, these manufacturers demonstrate knowledge, ensuring quality, innovation, and effective solutions.
Download Quotation of Lab Fermenter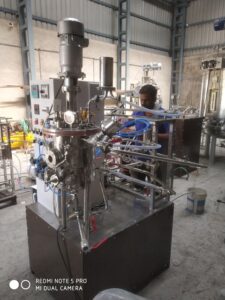 Specification of Insitu SS Fermenter For Laboratory
·       10 Litter SS Fermenter

·       Pt-100 Temperature Sensor and  Digital Temperature Measurement System

·       Mini Oil Free Air Compressor(1 Hp) Suitable For 10 Litter Fermenter

·       Air Flow Control Through Rota meter

·       Electromagnetic Agitator Speed Control Knob (RPM Controller) with control panel

·       Electric Steam Generator (All Ms Body-50Litter Tank with Water Level Tube)(Manual Feed Water-6kw)

 

1 Nos

Automatic Ph. Measurement & Control System

1 Nos

Extra Cost On Request

Do Sensor(Indian Made)

1 Nos

Extra Cost On Request
10L SS Fermenter With Oil Free Air Compressor and Electric Steam Boiler unit
Agitation Stirring Arrangement
Top Mounted Agitator Shaft With Lab Seal and 2 Nos Adjustable Ruston Turbine
PMDC Motor(RPM 1200)
DC/Ac Drive For Agitator Speed Controller Knob
Aeration Control System
Air Flow Rota meter With Manual Flow Control Valve
Pressure Control System
Pressure Regulator For Process Pressure Control
Digital Temperature Measurement System
Pt -100 Temperature Sensor For Accurate Temperature Measurement
Digital Temperature Indicator
Control Panel
Powder Coated Control Panel With Various Panel Mounted Accessories, Instruments and Controller
Fermenter Construction and Specification
Total Volune:10 Litter
Working Volume:70% Of Total Volume
L/d Ratio : 1: 1.5 to 2.5
Contact Part: SS 316L
Non Contact Parts: SS 304
Contact Part: SS 316L
Outer Finish : Matt Finished
Inner Finish : 220 Grit Finish
Motor : PMDC
Max. Output RPM Speed : 1200
Speed Controlling: Using Micro controller
Temperature Sensor : PT-100 Type(Sterilizable)
Temperature Controlling System : PID Control Digital Display
Air Inlet Filter : 0.2 Micron PP Filter
Air Outlet Filter : 0.2 Micron PP Filter
Air Outlet : Through Shell Tube Type Condenser ( Heat Exchanger)
Spurger  System : Ring Type Air Spurger System At Bottom
Mechanical Seal : For Zero Contamination and Reduce Air Leakage
Baffle : 4 Nos( Size Vessel Dia/10)
 Adjustable Impeller : 2 Nos Of Adjustable Ruston Turbine( Six Blade)(Vessel Dia/3)
In India, pilot scale fermenter manufacturers are vital catalysts for innovation. They produce advanced fermentation systems, crucial for scaling up biotechnological processes. These manufacturers drive research, bridging the gap between lab experiments and large-scale production, bolstering sectors like pharmaceuticals and biofuels, and contributing significantly to India's scientific and economic growth.
Specification of Pilot Scale Fermenter
Different Types Of Fermenters

Fermenter are Categorized as Per Volume Of Fermenter and Bioreactor in Three Types. Industrial Fermenter System(Automatic/ Semi Automatic) Pilot Scale Fermenter(Fully Automatic) Laboratory Scale Fermenter(Manual Operating System)

There are two Types Of Fermentation Process In Microbiology As Per Respiration System. 1) Aerobic Fermentation System 2) Anaerobic Fermentation System Aerobic Fermentation Occur With the Presence Of Oxygen In Bioreactor. Anaerobic Fermentation System Occur With Absence Of Oxygen In Fermenter System. In Uma Pharmatech Fermenter System Both Process Can Process With Specific Design.
API Manufacturering Plant Supplier in India
We Manufacture Industrial and Laboratory Fermenter For Pharmaceutical, Biotech, Health Care, Life Science, Biofertilizer, Probiotics, API, Biopesticides and many More.
 We Supply Our Machinery In Gujarat Most Cities Like Ahmedabad, Navsari, Surat, Rajkot, Porbandar, Bhavnagar, Gandhinagar, Mehsana, Patan, Veraval, Vadodara, Ankleshwar, Bharuch, Bhuj, Junagadh, Jetpur, Morbi.
Uma Pharmatech Machinery Fermenter System Comes With All Utilities Like Chiller, Compressor, Steam Generator, Filter Condenser, All Valves and Fittings, Automatic Controlling Panel , Skid Platform, Sensors and Controllers.
Industrial Fermenter Manufacturers:
We at Uma Pharmatech Machinery are proud to be one of Bangalore's top Manufacturers of industrial fermenters. We are committed to offering premium fermenters that satisfy the various demands of the bioprocessing sector. To that end, we have invested in cutting-edge facilities, cutting-edge technologies, and a committed team of professionals. Because of our unwavering commitment to perfection, we are a top option for companies looking for dependable and effective fermentation equipment.
Table Top Fermenter Manufacturers in India:
India is home to several top lab fermenter manufacturers in the field of fermentation processes. These producers create fermenters, which are essential for growing microorganisms, making enzymes, and creating bio-based goods. They provide fermenters with superb control over variables such as temperature, pH, aeration, and agitation.
Indian makers of lab fermenters are aware of the various requirements of academics and business people. As a result, they offer fermenters in various shapes, sizes, and materials to meet various needs. To ensure maximum functionality and lifespan, these manufacturers place an emphasis on user-friendly interfaces, dependable performance, and sturdy construction.
Laboratory Bioreactor Manufacturers in India:
There are specialised manufacturers in India that concentrate on creating high-quality laboratory bioreactors for use in laboratory-scale research and experimentation. These producers are aware of the value of small-scale applications requiring compact, effective, and adaptable bioreactors. Their lab bioreactors are built to offer exact control and scalability, allowing researchers to effectively reproduce and optimize processes.
India is home to prominent manufacturers of a variety of laboratory fermenters in the field of laboratory fermentation. These fermenters were created especially for small-scale investigations, allowing scientists to experiment with various fermentation settings and refine their settings. These manufacturers' laboratory fermenters provide effective microorganism cultivation and bio-based product production thanks to their small size and cutting-edge features.
Reputable manufacturers of pilot-scale bioreactors with an emphasis on biofertilizer production can be found in Canada. These producers provide scalable and adaptable bioreactor systems that allow organic waste to be transformed into nutrient-rich fertilisers. Their solutions advance the ideas of the circular economy and support sustainable waste management techniques.
Innovative makers of pilot-scale bioreactors that excel in producing enzymes can be found in Sweden. In their bioreactor designs, these manufacturers place a strong priority on sustainability and energy efficiency, minimizing environmental impact while maintaining high output. Healthcare, agriculture, and industrial biotechnology are just a few of the industries supported by their solutions.
Industrial Fermenter Cost in India
What is an Industrial Fermenter? An industrial fermenter, also known as a bioreactor, is a specialized vessel designed for large-scale fermentation processes in industries such as pharmaceuticals, food and beverage, biotechnology, and more. It provides a controlled environment for the growth and multiplication of microorganisms, including bacteria, fungi, and yeast, under specific conditions.
Manufacturers of pilot size bioreactors with experience in producing API can be found in the UK. These producers use their expertise in biotechnology and process engineering to create cutting-edge bioreactor systems for the pharmaceutical sector. Their products make it possible to produce APIs effectively, aiding in the creation of life-saving drugs.
Manufacturers of pilot scale fermenters concentrate on the manufacturing of biofertilizers in an effort to meet the needs of the nation's agriculture. These businesses provide small, reasonably priced bioreactor systems that make it easier to turn organic waste into useful fertilizers. Their suggestions encourage the use of resources and contribute to sustainable agriculture.