Liquid Biofertilizer Production Plant Manufacturer
For Liquid Biofertilizer Plant Manufacturer in India-Gujarat, Uma Pharmatech Machinery Is One Of The Leading Manufacturer and Supplyer in india. Uma Pharmatech Machinery Provide Turnkey Solution For Liquid Biofertilizer Manufacturing Plant With ALl Utilities Like:
Water Chiller Circulator Unit
Steam Boiler or Steam Generator
Electric Controlling Panel With Automation and Software
Oil Free Air Compressor
Skid
Ph controlling System
Dissolve Oxygen Controlling System
Antifoam Breaker and Controller
Temperature Controlling System
We recognize the value of bio-fertilizers in promoting sustainable agricultural practices. As the world's population grows, it becomes more important than ever to maximize agricultural yields while minimizing environmental damage. Bio-fertilizers are environmentally friendly because they use microorganisms to improve soil fertility and plant growth. In this article, we'll go over how our bio-fertilizer plants and equipment can help you maximize crop yields while minimizing environmental impact.
Manufacturer of Biofertilizer Plant and Equipment
At Uma Pharmatech Machinery, we are committed to providing top-quality biofertilizer plants and supplies to our clients. As a leading manufacturer and supplier in the industry, we are dedicated to delivering products that are both reliable and effective. In this article, we will discuss the importance of biofertilizers and how our products can benefit your crops. We will also provide information on our manufacturing process and the different types of biofertilizers we offer.
Supplier Of Biofertilizer Manufacturing Plant
Biofertilizers are organic fertilizers derived from living organisms. They contribute to increased soil fertility and healthy plant growth. Microorganisms such as bacteria, fungus, and algae found in biofertilizers are necessary for plant growth. These microbes aid in nitrogen fixation, phosphorus solubilization, and the production of growth-promoting chemicals that promote plant growth.
Cost Of Biofertilizer Manufacturing Plant
There are several reasons why you should consider using biofertilizers on your crops. Firstly, biofertilizers are eco-friendly and sustainable. Unlike chemical fertilizers, biofertilizers do not harm the environment or contaminate the soil. They are made from natural materials and do not contain harmful chemicals.
Uma Pharmatech manufactures high-quality biofertilizer plants and supplies using a cutting-edge production technology. Our manufacturing process starts with selecting the greatest raw materials, which are then meticulously processed to create the final product. We use cutting-edge technology and equipment to assure the best quality of our products.
We provide a diverse selection of biofertilizers to meet the needs of various crops and soil types. Our biofertilizers are designed to produce the greatest results possible and are appropriate for both organic and conventional farming practices. Among the biofertilizers we provide are:
Nitrogen-Fixing Biofertilizers: These biofertilizers aid in the fixation of atmospheric nitrogen and the availability of nitrogen to plants. They are appropriate for crops that require a lot of nitrogen, such as legumes.
Phosphorus-Solubilizing Biofertilizers: These biofertilizers aid in the solubilization of phosphorus in the soil, increasing its availability to plants. They are good for crops requiring high quantities of phosphorus, such as grains.
Potassium-Mobilizing Biofertilizers: These biofertilizers aid in the mobilization of potassium in the soil, increasing its availability to plants.
What is The Price Of Fermentor and Bioreactor?

Price Of Pilot Scale Fermenter is Depends Of Capacity Of Fermenter and Automation Require In Fermenter. Basically Main Feature With Semi Automatic 500 Litter Fermenter Start From 16Lac + GST(Without Boiler, Chiller, Ph , Compressor). Uma Pharmatech Machinery Is One Of The Best Fermenter Manufacturer in India With Affordable Price. Uma Pharmatech Machinery Made Pilot Scale Fermenter With (500L+50L+Chiller+Steam Generator + Compressor + PLC Controlling System + Skid + Ph Control System + Temperature Control System + Agitation Speed Control + Pipeline Structure Skid ) = 36Lac+18%Gst

Main Three Types Of Fermentor is Used In Microbiology and Pharma Industry 1) Laboratory Fermenter System 2) Pilot Scale Fermentor Plant 3) Industrial Fermentor Bioreactor
Biofertilizers are an important part of modern agriculture. They boost soil fertility, promote healthy plant growth, and are environmentally benign and sustainable. UPM is dedicated to offering high-quality services.
Supplier of Production Fermenter For Large Scale Biofertilizer Plant
Uma Pharmatech Machinery Export Pilot Scale Fermenter Setup For Production Of Biofertilizer, Bio Pesticides. We Export Fermenter Setup In USA, UK, UAE, Oman, Japan, Russia, Canada, Mexico, Bangladesh, Nepal, Spain , Ethiopia, Greece, Philippines, Egypt, Nigeria, Netherland, Indonesia, India, Brazil, Vietnam and So On. We Supply This Fermenter and Bioreactor Setup With Chiller, Oil Free Air Compressor, Steam Generator, Skid . This Plant Is Use For Production Of Biofertilizer and Bio Pesticides Production.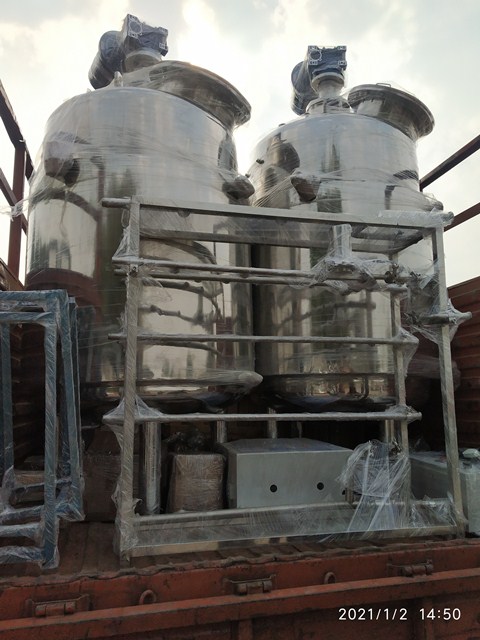 Bioreactor For Biopesticide Production
UMA PHARMATECH MACHINERY is able to serve In Local as well as international marketplaces. With the Experience of sophisticated Manufacturing system and professional Automation in Work Planning, we are able to provide a  Different Lab Equipments and Laboratory Instruments as we ensure complete safety during Manufacturing. We Manufacture Pilot Scale Fermenter With Automatic Ph Controlling System For Biofertilizer and Biopesticide Manufacturing Plant in India.
Small Scale(Pilot Scale) Biofertilzer Plant Manufacturer
UMa Pharmatech Machinery Biofertilizer Production Unit Is Very Economical For Biofertilizer Production .  UPM Fermentation Vessel Is Mirror Finished inside and matt finished at outside. You Can Also Use Biofertilizer Production unit For Biopesticides Production , Probiotics Manufacturing, API Manufacturing, Vaccine Manufacturing, Enzymes Manufacturing, vitamins manufacturing and many more pharma application.
Prize Of Biofertilizer Manufacturing Plant
In India UPM is TOP In Fermenter Manufacturing Companies. UPM Manufacturer Large Scale Fermenter and laboratory biotech fermenter for various application with economic industrial fermenter prize in india. 
To Know About Our Standard size and prize of Fermenter setup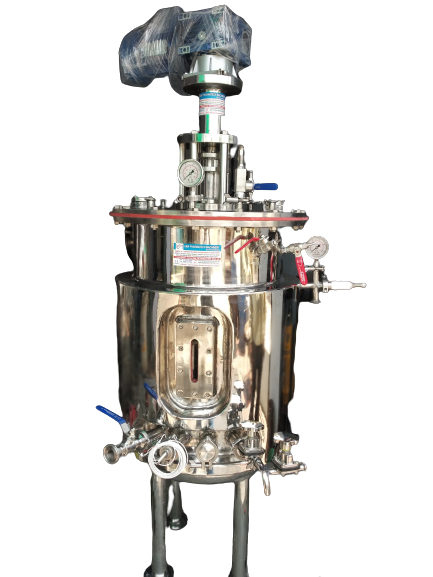 Manufacturer of Biofertilizer Plant and Equipment
We Have Complete Project Solution for Machinery To Start Business in
Small Scale Biofertilizer Production Plant
Lab Scale Liquid Biofertilizer manufacturing Setup
Pilot Scale Biofertilizer manufacturing plant setup
Production Scale Biofertilizer and bio pesticides Production plant setup
Bio-Fertilizer Plants and Equipment Suppliers
UPM specialize in designing and manufacturing bio-fertilizer plants and equipment specifically tailored to our clients' needs. Our equipment is built with efficiency and durability in mind, so you get the most bang for your buck.
We specialise in designing and manufacturing bio-fertilizer plants and equipment specifically tailored to our clients' needs. Our equipment is built with efficiency and durability in mind, so you get the most bang for your buck.
Uma Pharmatech Completed More Than 20+ Successfully Setup Liquid Biofertilizer Manufacturing Plant In India-Gujarat.
Liquid Biofertilizer Lab Equipment List
We recognize the significance of environmentally friendly and sustainable agricultural practices. That is why we provide cutting-edge bio-fertilizer plants to assist farmers in meeting crop yield targets while minimizing environmental impact.
Organic fertilizers containing living microorganisms such as bacteria, fungi, and algae are known as bio-fertilizers. These microorganisms collaborate with plants to improve nutrient absorption, crop yield, and soil fertility.
Plants for Bio-Fertilizer
Our bio-fertilizer plants are built with cutting-edge technology to produce large quantities of high-quality bio-fertilizers. We have a variety of bio-fertilizers available, including nitrogen-fixing, phosphate-solubilizing, and potash-mobilizing bio-fertilizers.
Biofertilizer Production Unit Project Report
Nitrogen-fixing biofertilizers
Nitrogen is an essential nutrient for plant growth and development, but it is frequently deficient in soil. Nitrogen-fixing bacteria in our nitrogen-fixing bio-fertilizers convert atmospheric nitrogen into an easily absorbable form for plants.
Bio-Fertilizers that Solve Phosphate Problems
Phosphorus is another important nutrient for plant growth, but it is frequently found in soil in an insoluble form. In our phosphate-solubilizing bio-fertilizers, phosphorus-solubilizing bacteria convert insoluble phosphorus into a soluble form that plants can absorb.
Potash-mobilizing Bio-Fertilizers
Potassium is required for plant growth and is important in stress tolerance. Our potash-mobilizing bio-fertilizers contain potash-mobilizing bacteria that help plants absorb potassium from the soil.
Manufacturer of Liquid Biofertilizer Plant in Gujarat-India
There are numerous advantages to using bio-fertilizers instead of chemical fertilisers. Bio-fertilizers are organic, safe for the environment, and long-lasting. They promote plant growth, increase crop yield, and reduce the need for chemical fertilisers, all of which lowers production costs.
Bio-fertilizers have several long-term advantages in addition to the benefits listed above. Over time, bio-fertilizers can improve soil fertility, reduce soil erosion, and increase biodiversity.