Fermenter Manufacturers Chennai
In Fermenter manufacturer in Chennai -Tamilnadu, UPM Is One of the Leading Manufacturer and Exporter in Chennai. We Are Manufacturing Autoclavable Glass Fermenter Bioreactor for Laboratory Scale Fermentation. Uma Pharmatech Machinery is Manufacture Industrial Fermenter and Autoclavable Glass Fermenter Bioreactor in India.
Fermenter Manufacturer in Chennai-Tamilnadu

• Glass Fermenter Bioreactor: Uma Pharmatech Machinery-7.6 lakh/Plant, Get Best Prize In Chennai • SS Fermenter Bioreactor: Uma Pharmatech Machinery- 5.6 Lakh/Plant, Get Offer Cost in 2023 in Tamilnadu • Stainless Steel Fermenter Bioreactor: Uma Pharmatech Machinery-2.4 Lakh/Plant, Offer Prize in 2023 in Chennai Call: +91-9726923885, Email:

[email protected]
Glass Fermenter Manufacturers
A glass fermenter is a type of fermenter that uses glass as the material for the vessel. Glass fermenters are commonly used in microbiology and biochemistry research. Glass fermenters have a working volume ranging from a few milliliters to several liters.
Features of Glass Fermenter
Transparent vessel for easy observation of cell growth
Chemically inert and resistant to corrosion
Advanced control systems for precise control over temperature, pH, dissolved oxygen, and agitation
Various stirring and impeller configurations
Data logging and recording capabilities
Options for single-use and reusable vessels
Applications of Glass Fermenter
Microbial cell growth and biomass production
Production of enzymes, antibodies, and other bioproducts
Research and development in microbiology and biochemistry
Bioreactor Manufacturers in India
• UMA PHARMH MACHINERY(Ahmedabad-Gujarat, India)- Contact :+91-9726923885 , Email:
[email protected]
• fermetner shaker bioreactor fermentor ribbon blender, Contact: +91-8866137364 • fermenter, Shaker, Autoclave MANUFACTUR (UMA PHARMA|fermenter|bioreactor|shaker|Autoclave|fermentor), Contact: +91-9033404554
These producers make certain that their fermenter systems have cutting-edge control mechanisms, ideal aeration and agitation systems, and stringent sterilization procedures. To provide dependable and high-performance fermenters that support a variety of biotechnological and industrial operations, they uphold strict quality standards.
A crucial role is played by bioreactor manufacturers in Mumbai, Chennai, Bengaluru, Hyderabad, Ahmedabad, Surat, Kolkata, Pune, Jaipur, Indore, Vishakhapatnam, Lucknow, Bhopal, Nagpur, Nashik, Vadodara, Amritsar, Agra, Kanpur, Chandigarh, Madurai, Varanasi, Patna, Kochi, Aurangabad, Jodhpur, Faridabad.
Manufacturer of Fermenter and Bioreactor in Tamilnadu
In Chennai-Tamilnadu We are Top in Manufacturing of Production scale and Autoclavable glass bioreactor and fermenter manufacturer in Chennai.
UPM Fermentor Manufactured and designed for batch of Fermentation system. It can be used as a automatic or Fully-automatic model.
Precision control of process batch  parameters like heating, bar, pH and Dissolve oxygen. with automatic control sensors , transmitter and controlling.
Bottom or Top driven Agitator with Single Mechanical Seal and stuffing box gland packing  with six blade Ruston mixing  Impeller for Accurate tip speed and circular speed and better Mixing Performance With Low Power Capacity.
Bottom Zero Leg Space dead-leg Sampling Valve & Solenoid Operated Flush Bottom Valve Fermentor and bioreactor in Tamilnadu. 
We take pride in offering high-quality fermenters that are required for bioprocessing. Our fermenters are built to satisfy the needs of bioprocessing and are outfitted with cutting-edge features that set them apart from other fermenters on the market.
Why Choose Our Fermenter?
Our fermenters are built using cutting-edge technology, making them very efficient and dependable. Our engineers have combined cutting-edge sensors and control systems to provide exact monitoring of the fermentation process. This guarantees that the fermentation process is uniform and that the end products are of the greatest possible quality.
Our fermenters are also intended for scalability. This implies that our fermenters can be simply scaled up or down to match your bioprocessing operations' changing needs. As a result, our fermenters are an ideal investment for any bioprocessing enterprise seeking a solution that can scale with their needs.
Fermenter Manufacturers in India-Chennai
For Fermenter Manufacturers in Chennai we had installed many industrial Fermenter and autoclavable glass fermenter manufacturer in Chennai.
Uma Pharmatech Machinery Located In Gujarat-India . WE Supply Industrial Fermenter and lab bioreactor in Tamilnadu and its area Like Chennai, Kancheepuram, Tiruvallur,  Vellore,  Villupuram , Tiruvannamalai, Dharmapuri , Salem , Namakkal and Krishnagiri, Erode, Coimbatore, Tiruppur,
Theni, Karur,
Dindigul , Preambular and
Ariyalur.
We Supply In Southwest Zone Of Tamilnadu Like Madurai, Sivagangai ,
Ramanathapuram,
Virudhunagar, Tirunelveli,
Thoothukkudi, Dindigul
and Pudukottai , Kanyakumari, Nilgiris .
As the world is becoming more aware of the importance of sustainability and environmental protection, biofertilizers have emerged as an effective solution for maintaining soil health and promoting crop growth. Biofertilizers are composed of living microorganisms that enhance the nutrient uptake of plants, improve soil structure, and increase soil fertility. The use of biofertilizers has gained significant popularity in recent years due to their eco-friendly and cost-effective nature.
To produce biofertilizers, specialized equipment is required to facilitate the fermentation process and allow for the growth of microorganisms. Two types of equipment that are commonly used for biofertilizer production in fermenters and bioreactors. In this article, we will explore the details of these machines and the top biofertilizer manufacturing plant suppliers in India.
Continuous fermenters, on the other hand, are designed to operate indefinitely. The substrate is continually supplied into the vessel in these fermenters, and the fermented product is withdrawn at the same time. Continuous fermenters are suited for large-scale biofertilizer manufacturing that requires a huge amount of product.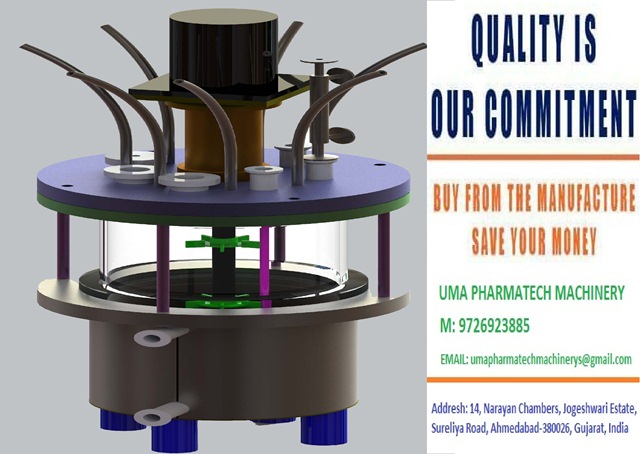 Suppliers of Enzymes Manufacturing Plants in India:
Compromised in UPM Advance Fermentation Technology is Compromised With Fermentation Process For Fermenter and Bioreactor . UPM Gives CD 6 High Speed Mixing For Gas- Liquid Mixing. Our cd6 Impeller Gives 80% Higher Efficiency With Low Power Consumption. Uma Pharmatech Fermenter System Gives Best Solution For Pharmaceutical and Biotech Industries. Our Fermenter System Fully Automated and Semi Automated. We Gives Affordable Fermenter and Bioreactor System Compared With Other Fermenter Manufacturers. We Are Giving Scada Based Advanced System, Which Gives Smooth Operation and Data Recording.
Several companies in India specialize in the production of enzymes and other bioproducts. Advanced Enzyme Technologies, Aumgene Biosciences, and Lumis Biotech are among the key participants in the Indian enzyme business.
These companies provide a variety of enzymes for various uses such as food processing, animal feed, textiles, and biofuels. They also offer custom enzyme development services to match their clients' individual demands.
Production Fermenter Manufacturers for API and Enzymes:
Uma Pharmatech Machinery Manufacture and Supply fermenter in Belgium, Argentina, Mexico, Germany, Japan, Singapore, Russia, Canada, Spain, USA, Ethiopia Countries for pilot scale fermenter and lab fermenter.
UPM Looking For Customer For lab fermenter and Pilot Scale Fermenter As a Manufacturer in Odisha, Bengaluru, Junagadh, Bharuch, Rajkot, Punjab, Mohali, Nashik, Pune, Maharashtra, Gujarat, Andhra Pradesh, Karnataka, Mumbai, Ankleshwar, Tamilnadu, Hyderabad, Haryana, Mohali, Rajkot, Vadodara, Bengaluru, Maharashtra.
API stands for Active Pharmaceutical Ingredient, which is a pharmaceutical drug's biologically active component. Fermenters can be used to create APIs by cultivating microorganisms that produce the required chemical.
Fermenters for API production are specifically developed to satisfy the needs of the drug manufacturing process. Strict control of process parameters such as temperature, pH, and dissolved oxygen, as well as the use of specialized equipment for downstream processing and purification, may be included.
Advantages of Bioreactors:
Bioreactors have several advantages over traditional production methods, including: High Yield: Bioreactors have the ability to produce large amounts of microorganisms, enzymes, and other biopharmaceuticals. Bioreactors can reduce production costs by using renewable resources and reducing waste. Bioreactors provide a controlled environment for the growth of microorganisms, resulting in optimal production conditions. Bioreactors use renewable resources and generate less waste, making them a more sustainable method of production.
Best Fermenter Manufacturers in Chennai-Tamilnadu
a. Fermenter quality and dependability: Look for manufacturers who employ high-quality components and adhere to strict manufacturing methods.
b. Customization options: Ensure that the manufacturer can modify the fermenter to your exact demands, taking elements such as capacity, control systems, and accessories into account.
c. After-sales service and maintenance: Select a manufacturer who offers great customer service, warranty coverage, and readily available spare parts.
d. Research the manufacturer's reputation and read customer reviews to determine their track record and consumer satisfaction.
Manufacturer of Bioreactors For Enzymes Production
Bioreactors can also be employed in the manufacture of APIs, particularly complex compounds such as biologics and monoclonal antibodies. Bioreactors used for API production are often larger than those used Bioreactor for enzyme production, and they may have more sophisticated controls and monitoring systems.
The use of bioreactors for API manufacture enables the creation of vast amounts of high-quality molecules that meet the pharmaceutical industry's stringent regulatory criteria.
Types Of Bioreactor
There are Two Types Of Bioreactor Available From Indian Supplier and Indian Exporter. 1) Insitu Serializable Bioreactor 2) Autoclavable Bioreactor 3) Glass Fermenter System 4) Stainless Steel Fermentation Plant
In Laboratory Fermenter and Pilot Scale Bioreactor Ruston Turbine Impeller Is Commonly Use In Bottom Of Fermenter. Pitch Blade Turbine is Use In Upper Side Of Fermenter. Power Consumption Of Pitch Blade Turbine Is Very Low Compared With Ruston Turbine. Ruston Turbine Flow Radial and Axial Both For Better Mass Transfer.
Supplier Of Fermenter In India-Tamilnadu
High-quality stainless steel construction: Our fermenters are composed of high-quality stainless steel, making them corrosion and rust resistant. This assures that our fermenters will last longer than fermenters built of inferior materials.
Our fermenters are outfitted with an automated control system that enables exact monitoring and control of the fermentation process. This guarantees that the fermentation process is uniform and that the products are of good quality.
Sensor integration: Our fermenters are outfitted with modern sensors that enable real-time monitoring of the fermentation process. This guarantees that any deviations from the proper fermentation conditions are identified and remedied as soon as possible.
Our fermenters are built to be readily scaled up or down to meet the changing needs of your bioprocessing activities. As a result, our fermenters are an ideal investment for any bioprocessing enterprise seeking a solution that can scale with their needs.
Simple to clean and maintain: Our fermenters are designed to be simple to clean and maintain. This ensures that our fermenters are always in good working order.
Uma Pharmatech Machinery's legacy stretches far beyond the bustling streets of Surat. As an industrial fermenter manufacturer in India, their influence resonates throughout the nation's industrial heartlands. From the pharmaceutical hubs to the burgeoning biotech clusters, their fermenters become catalysts for progress, fostering a culture of self-reliance and technological evolution.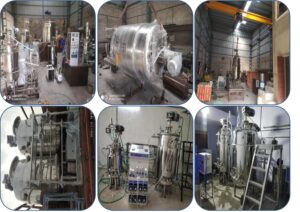 Cost of Fermenter For Industrial 1000L-100L
Considering the cost of fermenters goes beyond financial considerations. It's an investment in progress, innovation, and industrial advancement. Uma Pharmatech Machinery understands this profound impact, offering fermenters that embody not only engineering excellence but also the potential for transformative change across sectors.
The producers of laboratory fermenters are a significant force in India's scientific and industrial scene. They are experts in creating state-of-the-art fermentation machinery, promoting progress in biotechnology, pharmaceuticals, and research. To advance India's advancement in a variety of scientific fields, these manufacturers demonstrate knowledge, ensuring quality, innovation, and effective solutions.
Download Quotation of Lab Fermenter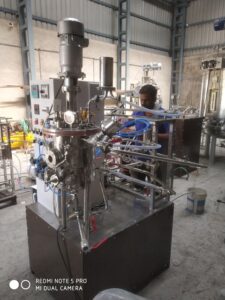 Specification of Insitu SS Fermenter For Laboratory
·       10 Litter SS Fermenter

·       Pt-100 Temperature Sensor and  Digital Temperature Measurement System

·       Mini Oil Free Air Compressor(1 Hp) Suitable For 10 Litter Fermenter

·       Air Flow Control Through Rota meter

·       Electromagnetic Agitator Speed Control Knob (RPM Controller) with control panel

·       Electric Steam Generator (All Ms Body-50Litter Tank with Water Level Tube)(Manual Feed Water-6kw)

 

1 Nos

Automatic Ph. Measurement & Control System

1 Nos

Extra Cost On Request

Do Sensor(Indian Made)

1 Nos

Extra Cost On Request
10L SS Fermenter With Oil Free Air Compressor and Electric Steam Boiler unit
Agitation Stirring Arrangement
Top Mounted Agitator Shaft With Lab Seal and 2 Nos Adjustable Ruston Turbine
PMDC Motor(RPM 1200)
DC/Ac Drive For Agitator Speed Controller Knob
Aeration Control System
Air Flow Rota meter With Manual Flow Control Valve
Pressure Control System
Pressure Regulator For Process Pressure Control
Digital Temperature Measurement System
Pt -100 Temperature Sensor For Accurate Temperature Measurement
Digital Temperature Indicator
Control Panel
Powder Coated Control Panel With Various Panel Mounted Accessories, Instruments and Controller
Fermenter Construction and Specification
Total Volune:10 Litter
Working Volume:70% Of Total Volume
L/d Ratio : 1: 1.5 to 2.5
Contact Part: SS 316L
Non Contact Parts: SS 304
Contact Part: SS 316L
Outer Finish : Matt Finished
Inner Finish : 220 Grit Finish
Motor : PMDC
Max. Output RPM Speed : 1200
Speed Controlling: Using Micro controller
Temperature Sensor : PT-100 Type(Sterilizable)
Temperature Controlling System : PID Control Digital Display
Air Inlet Filter : 0.2 Micron PP Filter
Air Outlet Filter : 0.2 Micron PP Filter
Air Outlet : Through Shell Tube Type Condenser ( Heat Exchanger)
Spurger  System : Ring Type Air Spurger System At Bottom
Mechanical Seal : For Zero Contamination and Reduce Air Leakage
Baffle : 4 Nos( Size Vessel Dia/10)
 Adjustable Impeller : 2 Nos Of Adjustable Ruston Turbine( Six Blade)(Vessel Dia/3)
In India, pilot scale fermenter manufacturers are vital catalysts for innovation. They produce advanced fermentation systems, crucial for scaling up biotechnological processes. These manufacturers drive research, bridging the gap between lab experiments and large-scale production, bolstering sectors like pharmaceuticals and biofuels, and contributing significantly to India's scientific and economic growth.
Specification of Pilot Scale Fermenter
Uma Pharmatech Machinery provides high-quality bioreactors and fermenters that are tailored to the specific requirements of Bioreactor For biotech research and manufacture. Our bioreactors and fermenters are designed to provide a regulated environment for optimal cell growth and recombinant protein expression.
Fermenters and bioreactors:
Bioreactors and fermenters are Best components in the manufacture of biological products such as vaccines, enzymes, and medicinal proteins. These devices are used to generate an ideal environment for cell growth and expression, allowing researchers and producers to quickly and efficiently produce huge quantities of biological products.
We provide a diverse assortment of bioreactors and fermenters to satisfy the specific requirements of biotech research and industry. Our products are intended to give you precise control over key parameters such as temperature, pH, and dissolved oxygen levels, ensuring that cells are grown in an optimal environment.
Types of Mini Bioreactors
There are various types of mini bioreactors on the market. Microscale bioreactors, benchtop bioreactors, and single-use bioreactors are the most commonly used types. Microscale bioreactors are small vessels with a culture volume of up to 15 ml. Benchtop bioreactors are larger, holding up to 10 L of culture volume. Single-use bioreactors are a recent advancement in bioprocessing technology that employ disposable bags rather than traditional stainless steel vessels.
Customization
Uma Pharmatech is aware that each client has different needs for their bioreactors. Because of this, the business provides customization services to its clients. Bioreactors made by uma pharmatech can be customized to suit client's demands. The business works closely with its clients to comprehend their needs and offer them the ideal answer.
Variety of Goods
Uma Pharmatech provides its clients with a vast selection of bioreactors. The business has a variety of bioreactors, including tiny laboratory-scale and large industrial-scale ones. A few liters to thousands of liters can be processed in one of uma pharmatech's bioreactors. Customers can choose the ideal bioreactor for their unique needs thanks to the company's selection of bioreactors.
Pilot Scale Fermenter Manufacturers in India:
Pilot scale fermenters are essential for bridging the gap between laboratory-scale and industrial-scale operations when scaling up your fermentation processes. These fermenters have bigger capacities and improved control capabilities to help you optimize your production processes. Look for companies who specialize in pilot scale fermenters and offer customization choices to match your individual requirements.
What is The Price Of Fermentor and Bioreactor?
Price Of Pilot Scale Fermenter is Depends Of Capacity Of Fermenter and Automation Require In Fermenter. Basically Main Feature With Semi Automatic 500 Litter Fermenter Start From 16Lac + GST(Without Boiler, Chiller, Ph , Compressor). Uma Pharmatech Machinery Is One Of The Best Fermenter Manufacturer in India With Affordable Price. Uma Pharmatech Machinery Made Pilot Scale Fermenter With (500L+50L+Chiller+Steam Generator + Compressor + PLC Controlling System + Skid + Ph Control System + Temperature Control System + Agitation Speed Control + Pipeline Structure Skid ) = 36Lac+18%Gst
Main Three Types Of Fermentor is Used In Microbiology and Pharma Industry 1) Laboratory Fermenter System 2) Pilot Scale Fermentor Plant 3) Industrial Fermentor Bioreactor
Industrial Fermenter Manufacturers in India:
Fermentation on an industrial scale necessitates the use of durable, efficient, and large-capacity fermenters capable of handling massive volumes. Manufacturers of industrial fermenters provide a wide range of choices ideal for a variety of industries, including pharmaceuticals, biotechnology, food and beverages, and others. To ensure seamless integration into your production setup, look for manufacturers and Suppliers who prioritize durability, hygiene, ease of operation, and scalability.
Trusted Fermenter Manufacturers For Biofertilizer Production in Chennai:
Are you looking for
dependable
fermenter manufacturers in India?
There is no need to look any further! In this comprehensive guide, we will look at the
top fermenter manufacturers in India
who cater to a variety of demands, such as laboratory, pilot size, and industrial fermenters.
Finding the correct fermenter manufacturer
is Important for your operations, whether you are a research institution, a pharmaceutical company, or an industrial unit. So, without naming any specific companies, let's go into the details.
When it comes to fermenter manufacture, quality and dependability are IMP. Working with a reputable manufacturer Of Bioreactor and Fermenter ensures that you have a long-lasting, efficient, and high-performance fermenter that is adapted to your individual needs. You can avoid potential setbacks and ensure smooth operations by completing thorough research and picking a reliable manufacturer.
Laboratory Fermenter Manufacturers in Chennai-Tamilnadu-India
Finding a dependable laboratory fermenter manufacturer is Important for research organizations, laboratories, and educational facilities. These suppliers provide a variety of alternatives appropriate for small-scale fermentation processes, ensuring precise control over variables such as temperature, pH, and agitation. Look for producers who place a premium on high-quality materials, cutting-edge technology, and strict adherence to industry standards.
Finding the best fermenter manufacturer in India is Important for a successful fermentation process, whether in a laboratory or in an industrial setting. You can assure a frictionless experience by prioritizing quality, customizable options, and good customer support. Remember to do complete research, think about your individual needs, and make an informed selection. With this comprehensive guide in hand, you are now ready to begin your search for the best fermenter manufacturer in India. Have fun fermenting!
Bioreactor Suppliers in India
Quality Assurance and Compliance
Quality control and adherence to industry standards are priorities for us as a respected industrial fermenter manufacturers. Our production procedures follow strict criteria and are subject to exacting quality inspections at every level. To guarantee complete transparency and responsibility, we keep meticulous documentation and traceability.
India's laboratory bioreactor and fermenter industry thrive with a multitude of manufacturers of Fermenter, suppliers of Bioreactors, and exporters of Bioreactors dedicated to delivering high-quality equipment for scientific research and bioprocessing. Researchers, laboratory professionals, and biotech companies can rely on these industry leaders to find top-notch lab bioreactors and fermenters that meet their specific needs. By partnering with the manufacturers.
We are aware that each bioprocessing application is different and has its own requirements and difficulties. As a result, we provide extensive customization possibilities to meet your unique needs. In order to fully comprehend the goals of each client and provide a solution that meets those needs, our skilled engineering team works directly with them. We go above and beyond to make sure that our industrial fermenters perfectly correspond with your bioprocessing objectives, from specialized vessel designs and sensor integration to particular control algorithms.
Manufacturers Of Fermenter Bioreactors in Chennai-Tamilnadu
Gujarat, Maharashtra, Punjab, Haryana, Rajasthan, Karnataka, Telangana, Tamil Nadu, Andhra Pradesh, Kerala, Madhya Pradesh, Uttar Pradesh, West Bengal, Assam, Chhattisgarh, Odisha, and Jharkhand produce the majority of laboratory fermenters. By bringing innovation, accuracy, and skill to the table, the Pilot Scale Fermenter Manufacturers and Suppliers in these states satisfy the different demands of industries like pharmaceuticals, biotechnology, and others. They currently hold a significant position on the global market as a result of their commitment to quality and client satisfaction. As long as these states retain an atmosphere favorable to industrial growth, manufacturers of Lab Fermenters will be crucial in shaping the form of India's road to independence and technological advancement.