Fermenter Manufacturer Chennai
In Fermenter manufacturer in Chennai -Tamilnadu, UPM Is One of the Leading Manufacturer and Exporter in Chennai. We Are Manufacturing Autoclavable Glass Fermenter Bioreactor for Laboratory Scale Fermentation. Uma Pharmatech Machinery is Manufacture Industrial Fermenter and Autoclavable Glass Fermenter Bioreactor in Chennai.
In Chennai-tamilnadu We are Top in Manufacturing of Production scale and Autoclavable glass bioreactor and fermenter manufacturer in Chennai.
UPM Fermentor Manufactured and designed for batch of Fermentation system. It can be used as a automatic or Fully-automatic model.
Precision control of process batch parameters like heating, bar, pH and Dissolve oxygen. with automatic control sensors , transmitter and controlling.
Bottom or Top driven Agitator with Single Mechanical Seal and stuffing box gland packing with six blade Ruston mixing Impeller for Accurate tip speed and circular speed and better Mixing Performance With Low Power Capacity.
Bottom Zero Leg Space dead-leg Sampling Valve & Solenoid Operated Flush Bottom Valve Fermentor and bioreactor in Chennai.
For Fermenter Manufacturers in Chennai we had installed many industrial Fermenter and autoclavable glass fermenter manufacturer in Chennai.
Uma Pharmatech Machinery Located In Gujarat-India . WE Supply Industrial Fermenter and lab bioreactor in Tamilnadu and its area Like Chennai, Kancheepuram, Tiruvallur,  Vellore,  Villupuram , Tiruvannamalai, Dharmapuri , Salem , Namakkal and Krishnagiri, Erode, Coimbatore, Tiruppur,
Theni, Karur,
Dindigul , Preambular and
Ariyalur.
We Supply In Southwest Zone Of Tamilnadu Like Madurai, Sivagangai ,
Ramanathapuram,
Virudhunagar, Tirunelveli,
Thoothukkudi, Dindigul
and Pudukottai , Kanyakumari, Nilgiris and .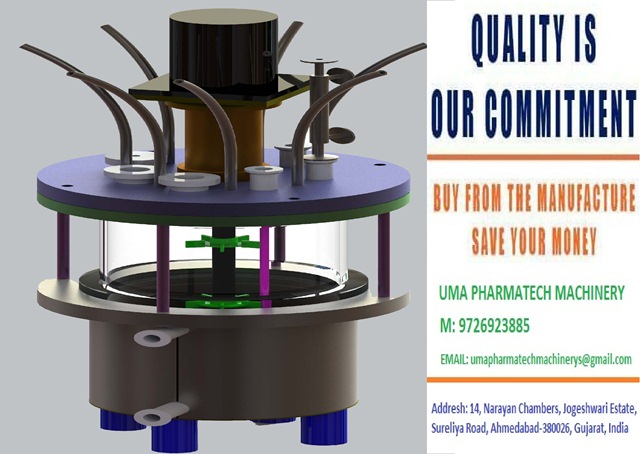 Compromised in UPM Advance Fermentation Technology is Compromised With Fermentation Process For Fermenter and Bioreactor . UPM Gives CD 6 High Speed Mixing For Gas- Liquid Mixing. Our cd6 Impeller Gives 80% Higher Efficiency With Low Power Consumption. Uma Pharmatech Fermenter System Gives Best Solution For Pharmaceutical and Biotech Industries. Our Fermenter System Fully Automated and Semi Automated. We Gives Affordable Fermenter and Bioreactor System Compared With Other Fermenter Manufacturers. We Are Giving Scada Based Advanced System, Which Gives Smooth Operation and Data Recording.
Uma Pharmatech Machinery Manufacture and Supply fermenter in Belgium, Argentina, Mexico, Germany, Japan, Singapore, Russia, Canada, Spain, USA, Ethiopia Countries for pilot scale fermenter and lab fermenter.
UPM Looking For Customer For lab fermenter and Pilot Scale Fermenter As a Manufacturer in Odisha, Bengaluru, Junagadh, Bharuch, Rajkot, Punjab, Mohali, Nashik, Pune, Maharashtra, Gujarat, Andhra Pradesh, Karnataka, Mumbai, Ankleshwar, Tamilnadu, Hyderabad, Haryana, Mohali, Rajkot, Vadodara, Bengaluru, Maharashtra.