We UMA PHARMATECH MACHINERY are Leading Manufacturer, Supplyer and exporter in india for Biotech and Lifescience Equipments and Instruments Manufacturer in india and all around the globe.We are Systematicallly Expanding Our Position In This Competitive Market In Innovation for Intellegent Bio Engineering Company.
Our Product Range Include Pilot Scale Fermenter, Lab Fermenter Bioreactor, Liquid Biofertilizer Manufacturing Plant, Biopesticides Manufacturing Plant, Api Manufacturing Plant, Enzyme Production Plant, Fermentation Plant Turnkey Solution Under One Roof. Our Lab Equipment Includes Rotary Shaker, Vertical Autoclave Sterilizer, BOD Incubator, Chemical Reactor and Agitator Vessel, SS Mixing Tank, SS Storage Tank, SS Jacketed Reactor, SS Limpet Coil Reactor, Ribbon Blender Powder Mixer, Electric Steam Boiler Or Electric Steam Generator, and Various Types Of Stainless Steel Fittings For Pharmaceutical.
We Have More Than 8 Years Of Experience in This Field , and we Completed More Then 50 Plus Turnkey Solution Plant Setup In All Over India And All Over The Globe. We are Looking For Clients From Germany, Brazil, Russia, Itley, Uk, USA, Canada, Uganda, Nigeria, Oman, Saudi Arabia, Algeria, Kenya, Denmark, Indonesia, Romania, Thailand, Netherlands, Switzerland, Philippines, Taiwan, Egypt, Irac, Vietnam, Ghana, France, Mexico, Syria, Zambia, Rwanda, Sri lanka, Sudan, Tanzania, Lebanon, Libya, Argentina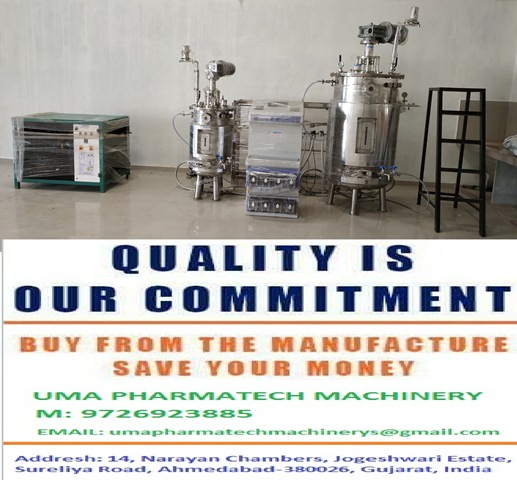 Uma Pharmatech Machinery is One Of the trusted and well known manufacturer for below Product.
Industrial Fermenter, Laboratory Fermenter, Pilot Scale Fermenter, Production Fermenter, Glass Fermenter, Insitu Fermenter and Bioreactor.
UPM Manufacture Different Capacity fermenter and Bioreactor For Various Application in Industry.
 UPM manufacture & Supply  Industrial and Laboratory Fermenter Bioreactor in Gujarat, Maharashtra, Pune, Nashik, Ankleshwar,  Ahmedabad, Vadodara, Surat, Anand, Bharuch, Dahej, Changodar, Chennai, Tamilnadu, West Bengal, Kolkata, Punjab, Haryana, Chhattisgarh, Delhi, Mumbai, Assam, Telangana, Hyderabad, Odisha, Kerala, Karnataka, Bengaluru, Assam, Bihar, Utter Pradesh, Goa, Chandigarh, Puducherry.
We Manufacturer and Looking For export Fermenter and Bioreactor to various countries like:
BANGLADESH, U.S.A, CHINA, THAILAND, NIGERIA, SWITZERLAND, U ARAB EMTS, KENYA, SAUDI ARAB, JAPAN, SINGAPORE, ITALY, BRAZIL, GERMANY,
RUSSIA, CANADA, SWEDEN, U K, UGANDA, ALGERIA, TRINIDAD, NEPAL, DENMARK, SPAIN, INDONESIA, QATAR, MALAYSIA, AUSTRALIA, KOREA, ROMANIA, KUWAIT, TURKEY, NETHERLAND , OMAN, PHILIPPINES, TAIWAN, EGYPT, ANGOLA, IRAQ, VIETNAM, GHANA, BAHARAIN, GUINEA, IRAN, SOUTH AFRICA, FRANCE, MOROCCO, SYRIA, NEW CALEDONIA
, SUDAN, SRI LANKA, RWANDA, TANZANIA, MEXICO, ZAMBIA, MALI, ARGENTINA, JORDAN, ETHIOPIA, LEBANON, BELGIUM, LIBYA, MAURITIUS, SENEGAL, LIBERIA,
CUBA, MAURITANIA, BHUTAN, GABON, URUGUAY, ISRAEL, AUSTRIA, AFGHANISTAN, POLAND, DJIBOUTI, DOMINIC, MYANMAR, HUNGARY, MADAGASCAR, JAMAICA, MOZAMBIQUE
PANAMA, PERU, CAMEROON, NORWAY, MALDIVES, YEMEN, CHILE, MONGOLIA, LITHUANIA, TOGO, PAPUA, SLOVAK, NIGER , LATVIA, ZIMBABWE, GREECE, CONGO
UKRAINE, FR GUIANA, IRELAND, HONG KONG, KAZAKHSTAN, NEW ZEALAND, MALAWI, SOMALIA, SWAZILAND, BOTSWANA, BURKINA, CAMBODIA, PORTUGAL, SIERRA , LEONE, 
COLOMBIA, FIJI, CYPRUS, TAJIKISTAN, BRUNEI, ECUADOR, BOLIVIA, TUNISIA, GAMBIA, CZECH, GUYANA, GUATEMALA, UNSPECIFIED, MALTA, UZBEKISTAN, NICARAGUA
LIECHTENSTEIN, BURUNDI, ALBANIA, FINLAND.