industrial and laboratory fermenter bioreactor manufacturer
In This Competitive Market UMA PHARMATECH MACHINERY is Trusted Name For Fermenter Bioreactor Manufacturer in Ahmedabad, Gujarat and India.
we are manufacturing of various types of fermenter/ industrial and laboratory fermenter bioreactor for various application like:
bio fertilizer manufacturing
bio pesticides manufacturing
API Bulk Drug Manufacturing for Pharmaceutical and biotech Industries
Prebiotics Manufacturing
Probiotics Manufacturing
Bio Plastic Manufacturing
Bio Diesel Manufacturing
Enzymes Manufacturing
We Are Manufacturing Various Types OF Industrial Fermenter, Lab Fermenter, Pilot Scale Fermenter, Production Scale Fermenter.
For Different Application As Per Demand By Customer.uma pharmatech machinery is one of the trusted fermenter bioreactor manufacturer in india.
We Have In-house Facility For Research Development design and manufacturing For industrial Fermenter and laboratory Bioreactor In India.
Fermenters are crucial pieces of machinery used in industrial and biotechnology activities. They are employed for the regulated growth of microorganisms like bacteria, yeast, and fungi. The significance of fermenters and their use in biotechnology and industrial processes will be covered Here.
For academics, scientists, and manufacturers across a variety of industries, bioreactors and fermenters are essential instruments. They give cell and microbial development a regulated environment, enabling the manufacture of enzymes, biofertilizers, and other goods. Thanks to technological improvements, a wide variety of bioreactor and fermenter manufacturers are now available.
Uma Pharmatech Machinery's legacy stretches far beyond the bustling streets of Surat. As an industrial fermenter manufacturer in India, their influence resonates throughout the nation's industrial heartlands. From the pharmaceutical hubs to the burgeoning biotech clusters, their fermenters become catalysts for progress, fostering a culture of self-reliance and technological evolution.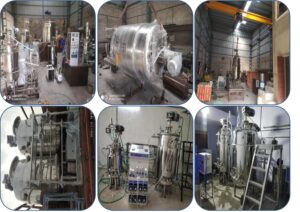 Cost of Fermenter For Industrial 1000L-100L
Considering the cost of fermenters goes beyond financial considerations. It's an investment in progress, innovation, and industrial advancement. Uma Pharmatech Machinery understands this profound impact, offering fermenters that embody not only engineering excellence but also the potential for transformative change across sectors.
The producers of laboratory fermenters are a significant force in India's scientific and industrial scene. They are experts in creating state-of-the-art fermentation machinery, promoting progress in biotechnology, pharmaceuticals, and research. To advance India's advancement in a variety of scientific fields, these manufacturers demonstrate knowledge, ensuring quality, innovation, and effective solutions.
Download Quotation of Lab Fermenter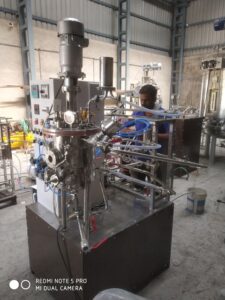 Specification of Insitu SS Fermenter For Laboratory
·       10 Litter SS Fermenter

·       Pt-100 Temperature Sensor and  Digital Temperature Measurement System

·       Mini Oil Free Air Compressor(1 Hp) Suitable For 10 Litter Fermenter

·       Air Flow Control Through Rota meter

·       Electromagnetic Agitator Speed Control Knob (RPM Controller) with control panel

·       Electric Steam Generator (All Ms Body-50Litter Tank with Water Level Tube)(Manual Feed Water-6kw)

 

1 Nos

Automatic Ph. Measurement & Control System

1 Nos

Extra Cost On Request

Do Sensor(Indian Made)

1 Nos

Extra Cost On Request
10L SS Fermenter With Oil Free Air Compressor and Electric Steam Boiler unit
Agitation Stirring Arrangement
Top Mounted Agitator Shaft With Lab Seal and 2 Nos Adjustable Ruston Turbine
PMDC Motor(RPM 1200)
DC/Ac Drive For Agitator Speed Controller Knob
Aeration Control System
Air Flow Rota meter With Manual Flow Control Valve
Pressure Control System
Pressure Regulator For Process Pressure Control
Digital Temperature Measurement System
Pt -100 Temperature Sensor For Accurate Temperature Measurement
Digital Temperature Indicator
Control Panel
Powder Coated Control Panel With Various Panel Mounted Accessories, Instruments and Controller
Fermenter Construction and Specification
Total Volune:10 Litter
Working Volume:70% Of Total Volume
L/d Ratio : 1: 1.5 to 2.5
Contact Part: SS 316L
Non Contact Parts: SS 304
Contact Part: SS 316L
Outer Finish : Matt Finished
Inner Finish : 220 Grit Finish
Motor : PMDC
Max. Output RPM Speed : 1200
Speed Controlling: Using Micro controller
Temperature Sensor : PT-100 Type(Sterilizable)
Temperature Controlling System : PID Control Digital Display
Air Inlet Filter : 0.2 Micron PP Filter
Air Outlet Filter : 0.2 Micron PP Filter
Air Outlet : Through Shell Tube Type Condenser ( Heat Exchanger)
Spurger  System : Ring Type Air Spurger System At Bottom
Mechanical Seal : For Zero Contamination and Reduce Air Leakage
Baffle : 4 Nos( Size Vessel Dia/10)
 Adjustable Impeller : 2 Nos Of Adjustable Ruston Turbine( Six Blade)(Vessel Dia/3)
In India, pilot scale fermenter manufacturers are vital catalysts for innovation. They produce advanced fermentation systems, crucial for scaling up biotechnological processes. These manufacturers drive research, bridging the gap between lab experiments and large-scale production, bolstering sectors like pharmaceuticals and biofuels, and contributing significantly to India's scientific and economic growth.
Specification of Pilot Scale Fermenter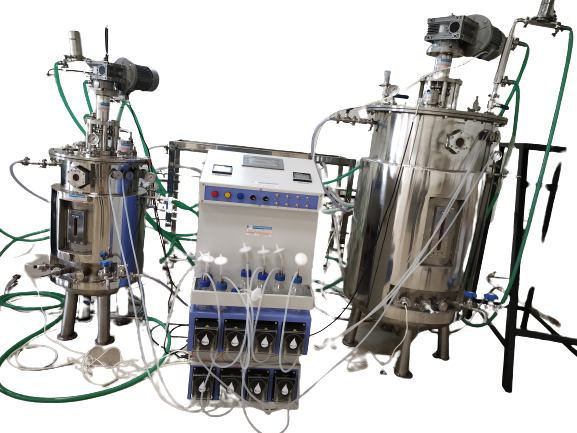 Lab Bioreactor Manufacturer
Here  we include our standard size and specification fermentation system with fermenter, chiller, compressor, inbuilt heating system, automatic sterilization system, automatic temperature controlling, agitation speed controlling, ph controlling system with plc programming system below.
A lab bioreactor is a small-scale bioreactor designed for laboratory use. Lab bioreactors are commonly used for research and development in biotechnology, microbiology, and biochemistry. Lab bioreactors typically have a working volume of 1 to 10 liters.
Manufacturer of Lab Bioreactor
Advanced control systems for precise control over temperature, pH, dissolved oxygen, and agitation
Compact design and easy to operate
Options for single-use and autoclavable vessels
Various stirring and impeller configurations
Data logging and recording capabilities
Lab Bioreactor For Enzymes
Research and development in biotechnology, microbiology, and biochemistry
Scale-up studies for bioprocesses
Optimization of fermentation parameters
Production of enzymes, vaccines, and biofuels
What are Fermenters?
A bioreactor called a fermenter is used to grow microorganisms in a liquid medium. By regulating variables like temperature, pH, and oxygen supply, it is intended to offer the best possible habitat for the development of microorganisms. Depending on the intended use, fermenters come in a variety of sizes and styles. They are extensively utilized in the creation of biofuels, food, drinks, and pharmaceuticals.
The Philippines' pilot scale bioreactor manufacturers are known for their expertise in enzymes production. These manufacturers develop customizable bioreactor systems that enable efficient enzyme production with high purity and yield. Their solutions support various industries, including healthcare, food processing, and biotechnology.
Egypt boasts reputable pilot scale bioreactor manufacturers focusing on API production. These manufacturers provide robust and reliable bioreactor systems that enable the production of high-quality APIs. Their solutions cater to the needs of the pharmaceutical industry, supporting advancements in healthcare.
50L Fermentor setup For Laboratory
100L Fermentor setup For Biotech Lab
150L Fermentor setup For Pilot Scale Production
200L Fermentor setup For Probiotics
250L Fermentor setup For Biofertilizer Manufacturing
350L Fermentor setup For Protein Manufacturing
500L Fermentor setup For API Production
1000L Fermentor setup For Biofertilizer
Industrial And Lab Fermenter or Bioreactor Manufacturer in India . UPM Designed Special Economics Fermenter for Liquid Biofertilizer and biopesticides manufacturing Plant In India.
Uma Pharmatech machinery is supplier of various types of fermenter bioreactor manufacture like:
industrial fermenter
Laboratory fermenter
lab bioreactor
glass fermenter
Stainless Steel Fermenter
Autoclavable fermenter
Photo-bioreactor
Airlift Fermenter Bioreactor manufacturer
Insitu Serializable Fermenter
Pilot Scale Fermenter
Production Scale Fermenter
Solid State Fermenter
SIP/ CIP Function in fermenter
Special Purpose Fermenter
uma pharmatech machinery provide turnkey based solution for fermentation plant in various application example like:
Bio fertilizer Manufacturing Plant
Bio pesticides Manufacturing plant
Probiotics
Prebiotics
Cell Culture
Animal Culture
Mammalian cell Culture
Algae
biodiesel manufacturing
bio plastic
above are top 10 category for fermentation plant is mostly required by customer
API Bulk Drug Manufacturing For Pharmaceutical
Antibiotic Manufacturing
Proteins Manufacturing
vaccine manufacturing
vitamins manufacturing
Industrial And Laboratory Fermenter bioreactor Manufacturer in India
we are also deal on below fermentation catagory because of customer demand for example like:
amino acid manufacturing
minerals
supplements
vinegar production
meat production
cheese production
alcohol production
wine production
beer production
biochemical production
we also can make as per customer demand on below projects
Enzymes manufacturing Plant Setup
bio-conversion
primary metabolites
secondary metabolites
waste water treatment
microbial culture
mother culture
sewage waste treatment
biomass production
animal feed
strain development
biomass research.
Uma Pharmatech Machinery Is Looking For Client From Ethiopia, Brazil, Germany, Russia, Canada, Sweden, Uk, Uganda, Japan, Singapore, Saudi Arabia, Algeria, Nepal, Kenya, Denmark.
We Also Looking for customer because agriculture developments Spain, Indonesia, Bangladesh, Qatar, Malaysia, Thailand, Netherlands.
we are also looking customer from Oman, Nigeria, France, Syria, Mexico, Rwanda, Sri Lanka, Sudan, Japan, Singapore, Italy.
UPM Also Export Laboratory Fermenter and Laboratory Bioreactors in United States, Iraq, Egypt, Russia, United Kingdom, Germany, Taiwan, Singapore, Vietnam, Netherland, Canada, Philippines, Brazil, France, Indonesia, Hong Kong, UAE.
Manufacturers of Lab-scale bioreactors in Sudan specialize in producing API. These suppliers offer dependable and effective bioreactor systems that make it possible to make high-quality APIs. Their solutions enable improvements in healthcare while meeting the needs of the pharmaceutical sector.
Manufacturers of pilot size bioreactors in Sri Lanka are well known for their proficiency in enzyme production. These suppliers provide individualized bioreactor systems that enable high yield and purity enzyme production.
Advantages of Bioreactors
Environment Under Control
In bioreactors, cells, bacteria, and tissues can develop in a controlled environment. This guarantees the high quality and purity of the products produced.

Higher Productivity
Large numbers of cells, microbes, and tissues can develop in bioreactors. As a result, productivity rises and production costs drop.
Sustainable Manufacturing
Bioreactors are a sustainable form of manufacturing since they employ renewable resources like sunshine and organic waste. They are a more environmentally responsible choice because they also produce fewer pollutants.
What Is Pilot Scale Fermenter?
Pilot Scale Fermenter Is Middle Scale Fermenter Between Laboratory Fermenter and Industrial Fermenter. Lab Scale Fermenter is Also Called as Bioreactor or Laboratory Fermenter in India. Pilot Cale Fermenter Cover Volume From 100 Litter To 1500 Litter Working Volume. Quality Of UPM Fermenter Is Superiors Then Other Manufacturer at Affordable.
Price Of Pilot Scale Fermenter Start From 6.25 lac. Uma Pharmatech Machinery is One Of the Trusted Manufacturer and Supplier Of Pilot Scale Fermenter and Bioreactor In India. UPM Provide Fermenter With Utilities Like Steam Boiler, Oil Free Air Compressor, Chiller, Fermenter and Bioreactor, Skid and Pipeline Platform, Ph Control, PLC Based Conrol System Under One Roof.
Pilot Scale Plant Play Vital Roll In Manufacturing Of Enzymes and API Manufacturing in Microbiology Laboratory. In Pilot Plant Microbiologist can Scale Up Batch From Lab Scale To Industrial Scale. As Per Result We Can Change Process Parameter Of Fermenter Bioreactor To Get Desire Product as Per Pilot Scale Fermentation Result.
Best Quality Fermenter Bioreactor and Fermentor Manufacturers in India
Providing a regulated environment for the growth of cells, bacteria, and tissues, bioreactors are an essential tool in many industries. They have many benefits, including higher productivity and environmentally friendly production techniques. You can choose the best bioreactor for your unique needs by having a thorough awareness of the many types of bioreactors, their uses, and the benefits they provide.
Uma Pharmatech is a well-known brand in the pharmaceutical and biotechnology industries. The business has made a name for itself as a top supplier, Leading Manufacturer, and exporter of fermenter bioreactors. In the bioreactor industry, uma pharmatech has come to be associated with excellence and innovation. In this post, we'll go into more detail about what makes uma Pharmatech unique and why it's the company to turn to for dependable, superior bioreactors.
Fermenter Bioreactor Cost In India
Fermenter bioreactors are Important pieces of Machinery for many sectors, including biotechnology, pharmaceuticals, and food and beverage. Production of bacteria, enzymes, and other biological products takes place in these Bioreactors. They promote the creation of high-quality products and offer the perfect environment for the growth of microorganisms.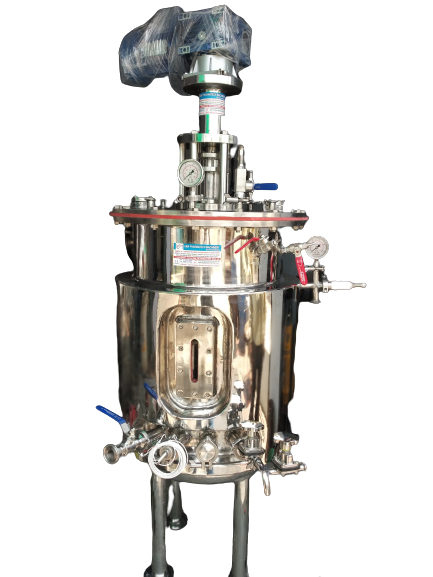 Types of Fermenters
Fermenters come in a variety of forms, such as batch, fed-batch, and continuous fermenters. The simplest variety, batch fermenters, are employed in small-scale production. In medium-scale manufacturing, fed-batch fermenters are employed, and they're made to allow the addition of nutrients during the fermentation process. Large-scale manufacturing use Industrial fermenters, which provide a continuous flow of nutrients and waste product disposal.
Applications of Fermenters
Fermenters are used in a variety of industrial and biotechnological activities. They are employed in the pharmaceutical sector to make antibiotics, vaccines, and other medications. They are used in the food and beverage industry to make cheese, yoghurt, wine, beer, and other dairy products. They are employed in the manufacture of ethanol, biodiesel, and other biofuels in the biofuels sector.
Design of Fermenters
A fermenter's design is determined by its intended use and the particular microbe that is being raised. By regulating variables like temperature, pH, and oxygen supply, it should create the optimal habitat for the growth of microorganisms. Additionally, the design ought to make it simple to sample waste materials and remove them. Fermenters can be constructed from a variety of materials, including glass, plastic, and stainless steel.
In conclusion, fermenters are a crucial part of industrial and biotechnological operations. They are essential in the manufacturing of medications, food, drinks, and biofuels because they are used to develop microorganisms under carefully controlled circumstances. Each type of fermenter is made for a particular use, and the design of a fermenter is determined by the kind of microorganism that is being raised. We can respect fermenters' value and their uses while also appreciating their contribution to the economy and society.