industrial and laboratory fermenter bioreactor manufacturer
In This Competitive Market UMA PHARMATECH MACHINERY is Trusted Name For Fermenter Bioreactor Manufacturer in ahmedabad, gujarat and india.
we are manufacturing of various types of fermenter/ industrial and laboratory fermenter bioreactor for various application like:
bio fertilizer manufacturing
bio pesticides manufacturing
API Bulk Drug Manufacturing for Pharmaceutical and biotech Industries
Prebiotics Manufacturing
Probiotics Manufacturing
Bio Plastic Manufacturing
Bio Diesel Manufacturing
Enzymes Manufacturing
We Are Manufacturing Various Types OF  Industrial Fermenter, Lab Fermenter, Pilot Scale Fermenter, Production Scale Fermenter.
For Different Application As Per Demand By Customer.uma pharmatech machinery is one of the trusted fermenter bioreactor manufacturer in india.
We Have In-house Facility For Research Development design and manufacturing For industrial Fermenter and laboratory Bioreactor In  india.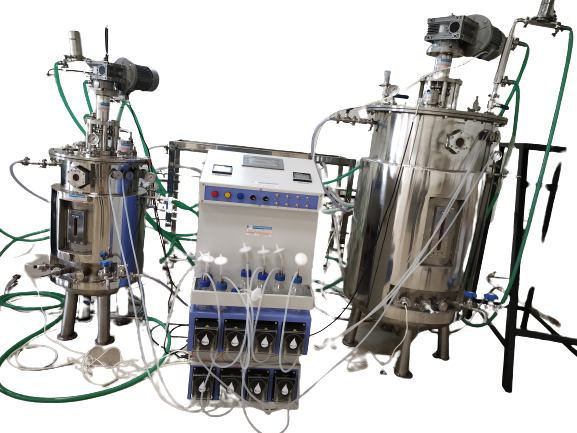 Here we include our standard size and specification fermentation system with fermenter, chiller, compressor, inbuilt heating system, automatic sterilization sysem, automatic temperature controlling, agitation speed controlling, ph controlling system with plc programming system below.
Industrial And Lab Fermenter or Bioreactor Manufacturer in India . UPM Designed Special Economics Fermenter for Liquid Biofertilizer and biopesticides manufacturing Plant In India.
uma pharmatech machinery is supplier ofvarious types of fermenter bioreactor manufacture like:
industrial fermenter
Laboratory fermenter
lab bioreactor
glass fermenter
Stainless Steel Fermenter
Autoclavable fermenter
Photo-bioreactor
Airlift Fermenter Bioreactor manufacturer
Insitu Serializable Fermenter
Pilot Scale Fermenter
Production Scale Fermenter
Solid State Fermenter
SIP/ CIP Function in fermenter
Special Purpose Fermenter
uma pharmatech machinery provide turnkey based solution for fermentation plant in various application example like:
Bio fertilizer Manufacturing Plant
Bio pesticides Manufacturing plant
Probiotics
Prebiotics
Cell Culture
Animal Culture
Mammalian cell Culture
Algae
biodiesel manufacturing
bio plastic
above are top 10 category for fermentation plant is mostly required by customer
API Bulk Drug Manufacturing For Pharmaceutical
Antibiotic Manufacturing
Proteins Manufacturing
vaccine manufacturing
vitamins manufacturing
Industrial And Laboratory Fermenter bioreactor Manufacturer in India
we are also deal on below fermentation catagory because of customer demand for example like:
amino acid manufacturing
minerals
supplements
vinegar production
meat production
cheese production
alcohol production
wine production
beer production
biochemical production
we also can make as per customer demand on below projects
enzymes manufacturing
bio-conversion
primary metabolites
secondary metabolites
waste water treatment
microbial culture
mother culture
sewage waste treatment
biomass production
animal feed
strain development
biomass research
Uma Pharmatech Machinery Is Looking For Client From Ethopia, Brazil, Germany, Russia, Canada, Sweden, uk, Uganda, Japan, Singapore, Soudi Arebia, Algeria, Nepal, Kenya, Denmark.
We Also Looking for customer because agriculture developements Spain, Indonesia, Bangladesh, Qatar, Malaysia, Thailand, Neatherland.
we are also looking customer from Oman, Nigeria, France, Syria, Mexico, Rwanda, Sri lanka, Sudan, Japan, Singapore, Itley.