Bioreactor Manufacturer in India
Uma Pharmatech Machinery is dedicated to revolutionizing the health industry by providing innovative solutions that address our clients' specific needs. Our expert team is made up of experienced professionals who are passionate about improving people's health and well-being through cutting-edge technology and cutting-edge products.
The bioreactor fermenter technology that drives innovation in the biopharmaceutical business is our area of expertise at Uma Pharmatech Machinery. With a variety of characteristics that enable effective cell cultivation and the manufacturing of high-quality biologics, our bioreactors provide a cutting-edge solution that addresses the needs of the biopharmaceutical industry.
We are constantly researching and developing new products that are safe, effective, and affordable as a leading provider of health solutions. Our products are intended to address a wide range of health issues, such as chronic diseases, allergies, skin problems, and digestive disorders.
Fermenter and Bioreactor Manufacturer in India and All Globe We Are Leading Supplier. UMA PHARMATECH MACHINERY Innovate Best Idea and innovation technique For Bioreactor Manufacturer in India.
Uma Pharmatech Machinery Production Unit Of bioreactor manufacturing in Ahmedabad-Gujarat -India. We Supply Bioreactor For biofertilizer Manufacturing and other product manufacturing in Indian most of agriculture states like
West Bengal
Uttar Pradesh
Punjab
Gujarat
Haryana
Madhya Pradesh
Assam
Andhra Pradesh
Karnataka
Chhattisgarh
Maharashtra.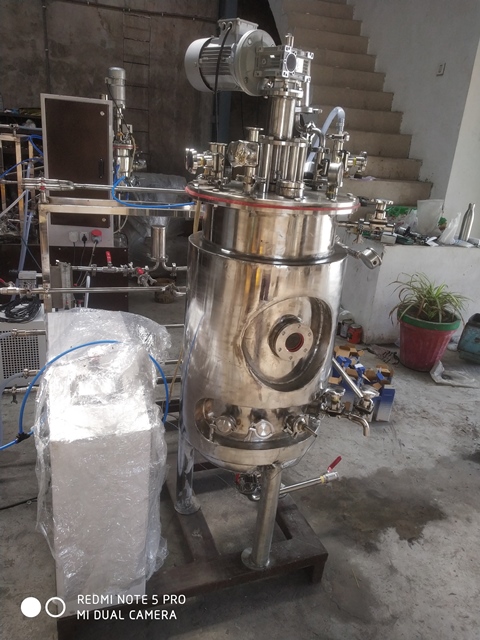 Stainless Steel (SS) Fermenter Manufacturer
A stainless steel fermenter is a type of fermenter that uses stainless steel as the material for the vessel. Stainless steel fermenters are widely used in the pharmaceutical, biotechnology, and food industries. Stainless steel fermenters have a working volume ranging from a few liters to thousands of liters.
Advantages of Bioreactors and Fermenters for Industrial Production
In the current age of biotechnology, bioreactors and fermenters have become essential tools for the production of various substances. These tools provide an efficient and cost-effective way to grow cells or microorganisms under controlled conditions, leading to the production of enzymes, biofertilizers, and other substances at a commercial scale. Here are some of the advantages of using bioreactors and fermenters for industrial production:
What Is Pilot Scale Fermenter?

Pilot Scale Fermenter Is Middle Scale Fermenter Between Laboratory Fermenter and Industrial Fermenter. Lab Scale Fermenter is Also Called as Bioreactor or Laboratory Fermenter in India. Pilot Cale Fermenter Cover Volume From 100 Litter To 1500 Litter Working Volume. Quality Of UPM Fermenter Is Superiors Then Other Manufacturer at Affordable.

Price Of Pilot Scale Fermenter Start From 6.25 lac. Uma Pharmatech Machinery is One Of the Trusted Manufacturer and Supplier Of Pilot Scale Fermenter and Bioreactor In India. UPM Provide Fermenter With Utilities Like Steam Boiler, Oil Free Air Compressor, Chiller, Fermenter and Bioreactor, Skid and Pipeline Platform, Ph Control, PLC Based Conrol System Under One Roof.

Pilot Scale Plant Play Vital Roll In Manufacturing Of Enzymes and API Manufacturing in Microbiology Laboratory. In Pilot Plant Microbiologist can Scale Up Batch From Lab Scale To Industrial Scale. As Per Result We Can Change Process Parameter Of Fermenter Bioreactor To Get Desire Product as Per Pilot Scale Fermentation Result.
Bioreactor Manufacturer in India
Our products are made with only the best ingredients, which are carefully sourced and tested to ensure they meet our high standards. Wherever possible, we use natural ingredients and avoid the use of harsh chemicals or preservatives that can be harmful to our health.
Our product line includes the following items:
Dietary supplements: Our dietary supplements are designed to help you feel better overall. We provide a variety of supplements that are specifically designed to meet the needs of various individuals, such as athletes, seniors, and children.
Personal care products: We use natural ingredients that are gentle on the skin and hair in our personal care products. Shampoos, conditioners, body lotions, and facial creams are among the products we offer.
Health devices: Our health devices are intended to assist individuals in effectively monitoring and managing their health. We have a variety of devices available, including blood pressure monitors, glucometers, and thermometers.
Suppliers and Exporter of Fermenter Bioreactor
We are committed to providing products that are safe, effective, and of the highest quality at Uma Pharmatech. We only use the best ingredients, and our products are rigorously tested to ensure that they meet our high standards.
We also believe in transparency, so we provide detailed information about the ingredients in our products. Because we want our customers to be fully informed about what they are putting into their bodies, we make certain that all of our products are clearly labelled with their ingredients.
At UPM, we are passionate about improving people's health and well-being through innovative, safe, effective, and affordable solutions. Our dedication to quality, transparency, and customer satisfaction distinguishes us from our competitors.
Look no further than Uma Pharmatech Machinery if you need a dependable Manufacturer, Supplier, and Indian Exporter of Industrial and Laboratory Fermenters and Bioreactors. Contact us today to learn more about our products and how we can assist you in reaching your health objectives.
Pilot Scale Bioreactor Manufacturers
UMA PHARMATECH MACHINERY is the Leader in  fermentor and bioreactor manufacturer in India. UPM Provide our client different capacitiy of bioreactor, according to the various need and specification that our different clients have. Uma Pharmatech give our client the best and so we boast of being the best Bioreactor manufacturer in the india and globally. UMA PHARMATECH product are manufacturing keeping in mind the Specification of the customer. UPM supply and export bioreactor, Lab Bioreactor, Industrial Fermenter/ fermentor/bioreactor, Jackated Fermenter, Glass Bioreactor. The bioreactor that we developed is of Jindal grade and quality.

Looking for a reputable manufacturer of lab bioreactors? You've arrived at the proper location. Our premium bioreactor products are created using top-notch materials and cutting-edge technology to satisfy your research demands. As one of India's top producers of bioreactors, we take pride in offering state-of-the-art solutions for your lab's requirements.

Are you trying to get affordable bioreactor prices in India? Look no further than the companies who make our bioreactors. We provide solutions that are reasonably priced without sacrificing effectiveness or quality. No matter how small you

You will obtain the highest return on your investment because our products from the bioreactor manufacturer are offered at reasonable costs. Our skilled staff is committed to producing products that are cutting edge, dependable, and up to the highest industry standards.
Laboratory Fermenter Manufacturer
so all of these things will work together in a fermenter bioreactor. and they will allow us to assess if we're actually going to be able to produce a molecule of interest for a viable laboratory fermenter price. so let's step into the lab we're going to build a fermenter from the ground up piece by piece and explain each part.  as we go and then we'll see the fermentor and bioreactor in action.  all right so before we get into fermentation Plant  where things are going to look really complicated.  let's build up a pilot scale fermenter so that we can see what the working parts are going look like first.
You've come to the right site if you're seeking for a dependable and reputed bioreactor manufacturer. The best bioreactor manufacturers in India and how to choose the finest bioreactor manufacturer for your requirements will be covered in this piece of content. Additionally, we'll discuss bioreactor costs in India and what you should budget for a high-quality bioreactor.
Lab Bioreactor Manufacturer
Making sure you select a lab bioreactor manufacturer with a solid reputation in the market is important when it comes to this type of equipment. Standard and custom bioreactors should both be available from a reliable lab bioreactor manufacturer, who should also offer a large selection of products. Along with reasonable price, they should also provide good customer service and support.
UPM Bioreactors is one of the leading lab bioreactor manufacturers in India. They have been in the industry for more than ten years and have a strong reputation for creating bioreactors of the highest calibre. Benchtop bioreactors, pilot-scale bioreactors, and production-scale bioreactors are just a few of the many goods they provide. They also provide specially made bioreactors that can be made to suit your individual requirements.
Prize of Laboratory Fermenter Bioreactor in India
At UPM we are a team of experienced technology and microbiologist and we use our expertise to design and manufacture the world's Ossam range of product for our valued Customers. 
Major benefit of  experienced professionals is  we can now design Bioreactor and fermenter according to the specific requirements of the client which has helped us in winning their trust in Uma Pharmatech Machinery.
We supplies and exports, industrial fermenter and laboratory bioreactor Prize, glass Fermentor, Limpet Coil Fermenter. 
UPM laboratory Bioreactor which has Best flexibility and easy to operate Automation  is an Best choice for those involved in Production and Institution settings. We Provide Low Cost Fermenter Prize in India.
In India, the biotechnology sector has grown significantly due to a rise in the demand for bioreactors. Bioreactors are crucial pieces of machinery used in the manufacturing of biofuels, medicines, vaccines, and other goods. The competition among bioreactor manufacturers in India has been more fierce as a result of the rising demand, making it challenging for companies to distinguish out.
Applications of Bio-Fertilizer Fermenters

Bio-fertilizer fermenters have numerous agricultural applications. They can make fertilizer for crops like cereals, vegetables, and fruit trees. They can also be used to treat animal waste, such as pig or cow manure, and convert it into high-quality fertilizer for crop use. Bio-fertilizer fermenters can also be used to treat food waste, which can then be converted into a nutrient-rich fertiliser for use in urban agriculture.
Fermenter For Industrial Production of Enzymes, API, Biofertilizer
The demand for high-quality fermenters and bioreactors is increasing in the fast growing sector of biotechnology. Finding a dependable and trustworthy manufacturer is critical whether you are a researcher, scientist, or industry specialist. This thorough guide will expose you to India's leading fermenter and bioreactor manufacturers, who offer unrivalled experience and cutting-edge technology.
Fermenter Manufacturer in India: Several significant players have achieved a good name in fermenter production in India. These companies have cutting-edge facilities, superior engineering capabilities, and a dedication to producing high-quality products. They assure optimal performance, scalability, and efficiency for your fermentation processes by offering a varied assortment of fermenters catering to various sectors.
Bioreactor Manufacturer in India: Leading bioreactor manufacturers in India excel at developing novel and durable bioreactor systems. These vendors are familiar with the specialized requirements of a wide range of applications, including medicines, biopharmaceuticals, and biofuels. Because of their cutting-edge designs, advanced control systems, and strict attention to quality standards, they are the preferred choice for bioreactor solutions in India.
Pilot Scale Bioreactor Manufacturer in India: The transition from laboratory-scale to pilot-scale is an important milestone in the development of bioprocesses. There are reputed manufacturers specializing in pilot-scale bioreactors in India. These suppliers provide scalable solutions that allow for a smooth transfer and optimization of your bioprocesses. You can rely on their knowledge to ensure dependable and efficient production at higher quantities while maintaining process integrity.
Bioreactor Manufacturer in Gujarat: Gujarat, recognized for its industrial prowess, is home to some of the best bioreactor manufacturers in the world. These manufacturers offer a comprehensive range of bioreactors ideal for a variety of sectors, with a strong emphasis on quality and innovation. Their products fulfil the greatest standards in medicines, biotechnology, and food processing, while also delivering customized features adapted to your individual needs.
Laboratory Fermenter Suppliers in Ahmedabad: Ahmedabad, a prominent city in Gujarat, is home to reputable laboratory fermenter providers. These providers serve research institutions, educational establishments, and small-scale manufacturing enterprises. Their laboratory fermenters provide precise control, dependable performance, and convenience of use for a wide range of microbial and cell culture applications. You may rely on them to provide high-quality fermenters for your laboratory needs.
Bioreactor Exporter in India: With rising global demand for bioreactor systems, India has emerged as a major exporter in this sector. Indian bioreactor manufacturers are well-known for delivering outstanding products to worldwide markets. They adhere to worldwide quality standards, provide competitive pricing, and effective after-sales service. As an exporter, they promise dependable and fast delivery, making them a reliable choice around the world.
Automatic Fermenter Manufacturer
A bioreactor fermenter is a container that offers a setting for the development of cells and microbes. Enzymes, biopharmaceuticals, and other substances with biological activity are created using it. Because they provide a controlled environment for cell culture and the generation of high-quality biologics, bioreactors are crucial to the biopharmaceutical industry. In order to provide the best circumstances for cell growth, the bioreactor is made up of an airtight container with a stirring mechanism, temperature control, and pH control.
Small Scale Fermenter Manufacturers
Another advantage of bioreactors and fermenters is their scalability. These tools can be designed to produce substances at different scales, from small laboratory-scale batches to large-scale commercial production. This scalability allows companies to start small and gradually increase production as demand grows.
Laboratory Scale Bioreactor at Low Prize
Bioreactors and fermenters also provide consistency and quality control in industrial production. The controlled conditions inside these vessels ensure that cells or microorganisms grow and reproduce consistently, leading to consistent yields and product quality. Moreover, the ability to monitor and adjust production parameters in real-time can help maintain product quality, leading to consistent results.
Uma Pharmatech Looking For Customer From China, Bangladesh, Libya, Indonesia, Nigeria, Turkey, Japan, Sudan, Argentina, USA, UK, Zambia, Jordan, Ethiopia, France, Spain, Egypt, Saudi Arabia, Italy, Kenya, Thailand, Singapore, Uganda, Rwanda, Nepal, Qatar, Oman, Vietnam, France, Syria, Turkey, Taiwan, Netherland, Angola, Sudan, Ethiopia, Libya, Belgium, Mali, Zambia, Mexico, Syria, Tanzania.
Fed Batch Fermenter Manufacturers
Batch, fed-batch, and continuous bioreactors are only a few of the different types of bioreactors. The simplest sort of bioreactor is a batch bioreactor, where all nutrients are introduced simultaneously and eaten by the cells until they are depleted. Fed-batch bioreactors, on the other hand, permit the bioreactor to be continuously restocked with nutrients throughout the fermentation process. The cells can expand and create more as a result. Nutrients are continuously supplied via continuous bioreactors, allowing cells to grow and product to be produced continuously.
Fermenter Vessel Manufacturer
we'll start off with a fed batch bioreactor.  so this is a 500ml working volume  Fermenter vessel.  now put some water in there so that we can see how it's going to look.  you can get bigger or smaller lab scale Fermenter vessels. but this should give us a general principle of how this works.  so the concept is that we're going to combine that  fermentation tank with this crazy-looking cap unit.  which is going to allow us to control a lot of variables that we can't control in shake glass.  so the first thing to look at here is stirring.  so stirring is going to be accomplished by this impeller in bioreactor. this is going below the surface of the liquid and keep the reactor stirred. I will stop the cells from settling and it will also keep the aeration even throughout the chamber that's going  be stirred via a motor. which is going to spin this top piece spinning the impeller in Bioreactor.  motor is not so complicated looking just looks like this. we're going to plug a cord in here at the top.  it will sit on the top of the fermenter itself and it will spin the impeller in bioreactor  a computer will control the speed.
Applications of Bioreactors and Fermenters:
Bioreactors are used in a variety of industries such as pharmaceuticals, biotechnology, and food and beverage. Bioreactors are used in the pharmaceutical industry to manufacture vaccines, antibiotics, and enzymes. Bioreactors are used in the biotechnology industry to produce biofuels, biopolymers, and bioplastics. Bioreactors are used in the food and beverage industry to produce fermented products such as beer, wine, and yoghurt. Uma Pharmatech Machinery Is one Of The Best Industrial and Pilot Scale Bioreactor Manufacturer In India.
Best Quality Fermenter Manufacturers
A bioreactor is a tool used to cultivate cells, bacteria, or tissues in a regulated environment. It is employed in a number of disciplines, including biomedical engineering, biotechnology, and chemistry. We will go through the many kinds of bioreactors, their uses, and the benefits they provide in this post.
We at UPM are committed to offering cutting-edge bioreactor fermenter technology to satisfy the demands of the biopharmaceutical sector. With a variety of characteristics that allow for effective cell cultivation and the manufacturing of high-quality biologics, our bioreactors have a number of benefits over competing systems. We are certain that our knowledge of bioreactor fermenter technology will enable us to advance innovation in the biopharmaceutical sector.
Fermenter Manufacturing Companies
India's fermenter and bioreactor manufacturing business has grown dramatically, establishing itself as a prominent player in the worldwide market. The manufacturers featured in this book have the requisite experience, cutting-edge technology, and commitment to quality to satisfy your specific needs. In India, these manufacturers are the go-to choice for fermenters, bioreactors, and pilot-scale equipment. Their commitment to innovation and customer satisfaction ensures that you receive world-class products for your bioprocessing needs.