Pilot SCale Fermenter Manufacturer
For Pilot Scale Fermenter Manufacturer in Maharastra in india UMA PHARMATECH MACHINERY is Well known brand for pilot scale fermenter Manufacturer in maharastra. We Have Well Trained Team For:
Manufacturing Of Fermenter
mirror Polishing of fermenter
Testing Of Fermenter
Automation For Fermenter
Electric Wiring For Fermenter As Per Automation
Installation of Fermenter
Uma Pharmatech Machinery is top brand as a fermenter manufacturer. We Have more than 10+ Years Of Experience as a Fermenter Manufacturer. UPM Fermenter is Designed for Batch Process and Fed Batch Process. We Provide Facility for Accurate Ph control and Accurate temperature control in fermenter as a manufacturer of fermenter.
We Are Providing Total Fermentation plant setup for pilot scale Manufacturing in bio fertilizer manufacturing plant, bio pesticide manufacturing, API Bulk Drug Manufacturing, Pharmaceuticals, Vaccine manufacturing, Enzymes Manufacturing plant.
Uma Pharmatech mostly supply ad manufacture pilot scale fermenter setup for biofertilizer and probiotics in Surat, Rajkot, Vadodara, Hyderabad, Ankleshwar, Pune, Nashik, Chennai, Ahmedabad, Sangli, Junagadh, Satara, Nagpur, Solapur, Amravati, Kolhapur, Akola, Dhule, Jalna, Panvel, Latur, Akola, Jalgaon.
Our Main Manufacturing Plant Located in ahmedabad. we are looking for client from various api, pharma, biotech, life science, health care , agriculture industries from indian state following states like Gujarat, Maharashtra, Punjab, Andhra Pradesh, Madhya Pradesh, Tamil Nadu, Telangana, Orissa, Haryana, Rajasthan, Delhi, West Bengal, Karnataka, Himachal Pradesh , Goa, Chandigarh, Chhattisgarh, Madhya Pradesh, Nagaland, Mizoram, Bihar, Arunachal Pradesh, Andaman and Nicobar.
Our Fermenter Is Tested With Air Test, Hydro test, Sterilization test, Zero Dead Test. We Follow ASME Standard for Manufacturing of fermenter. We are giving High Quality Fermenter Without Affect Product Quality Because of Well Experience in fermenter manufacturing. compare With Other Fermenter Manufacturer our Production fermenter cost is very low with same features.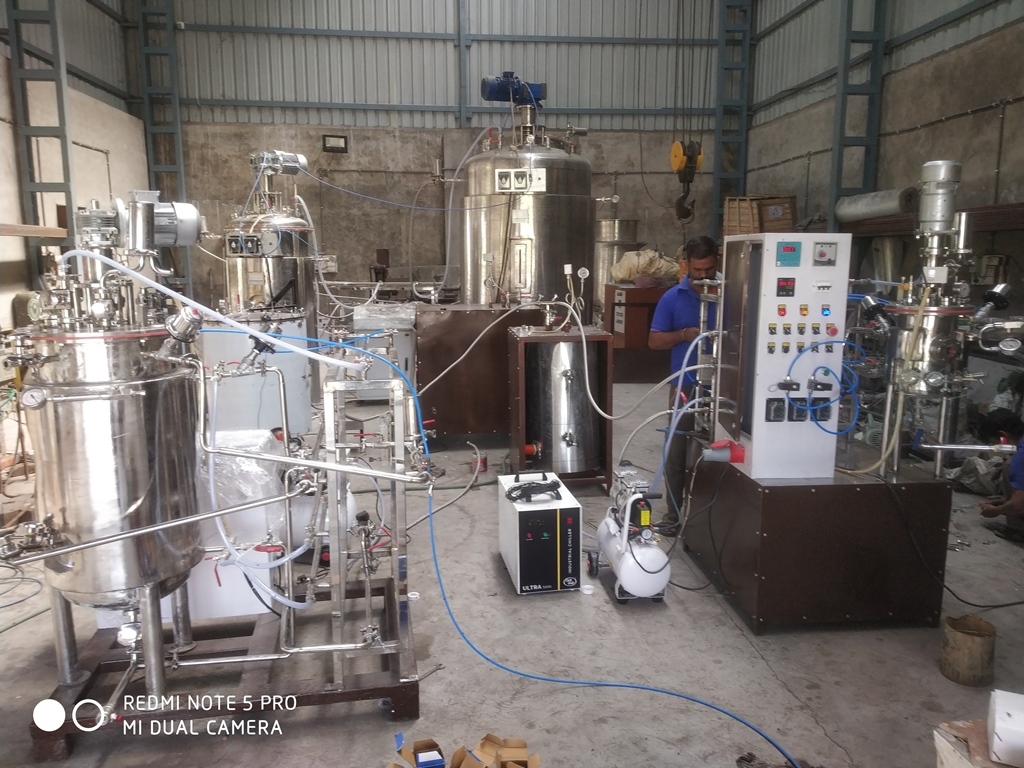 Uma Pharmatech Machinery Offer Pilot Scale Fermenter . UPM Fermenter Comes With Automatic Ph Controlling System, Automatic Temperature Controlling System, Agitation Speed Controlling System. Our Fermenter Set Which Include Fermenter, Skid, Electric Steam Generator, Chiller, Oil Free Air Compressor.
 UPM Manufacture & Supply Pilot Scale Fermenter In Bangladesh, USA, Thailand, Nigeria, Switzerland, UAE, Kenya, Japan, Singapore, Italy, USA,  Brazil, UK, Germany, Russia, Canada, Sweden.
We Also Supply Industrial and Laboratory fermenter and bioreactor in Uganda, Algeria, Nepal, Bangladesh, Greece, Egypt, France, Dhaka, Oman, Qatar, Spain and Many More Countries In the World.