Autoclavable Glass Fermenter manufacturer For Laboratory
Autoclavable Glass and insitu ss Fermenter and bioreactor manufacturer For Laboratory uma pharmatech machinery is well known name.  UPM Developed Special Designed Lab Scale Autoclavable Glass Fermenter for research institute and training to students.
UPM  insitu ss Fermenter Pressurized Condition Can Not Be Achieve Due To Glass Body.
In This Model For Sterilization of Media Not Require any Heat Source Like  Steam Generator. This Model Can Be Autoclave After Removing clamps Of Motor.
Insitu stainless steel bioreactor Fermentor
UPM fermenter is very east To operate and control with electronic easy programmable plc controlling system. UPM is provide Fully Automatic , Semi Automatic and Automatic  and manual fermenter for various application and customer requirement.
 UPM have inhouse manufacturing set up for design of fermenter, manufacturing of fermenter  upto 30000Litter fermenter.   Autoclavable glass bioreactor used for pharmaceutical and chemical industries in india.
This Model Of insitu ss Fermenter of ump manufacturer Generally Used For R&D Purpose and in College. this model available for small scale capacity up to 20Litter.
Standard Model
5Litter insitu stainless steel Bioreactor Fermenter
10Litter insitu stainless steel Bioreactor Fermenter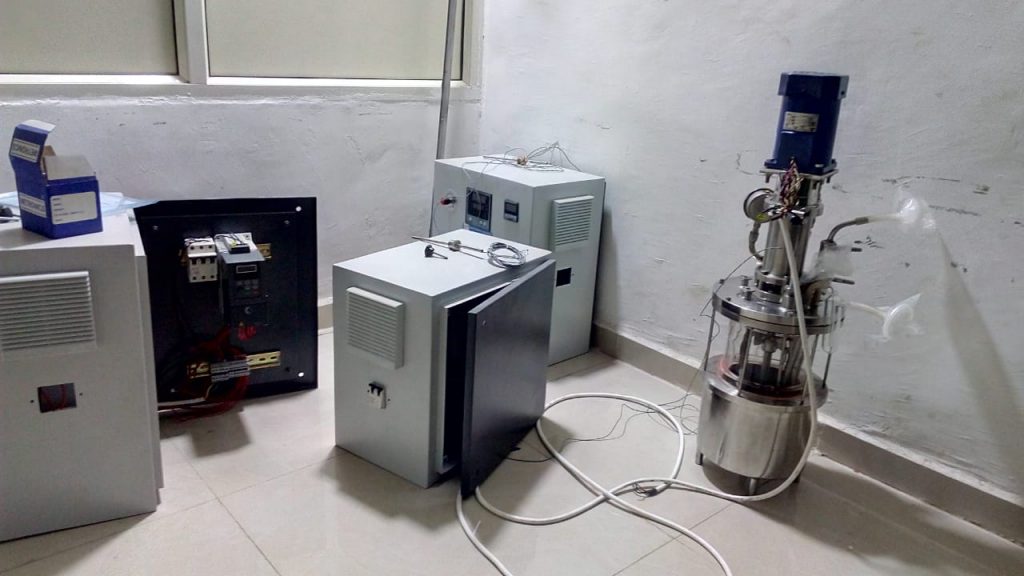 Advanced Features Of UPM Fermenter
Zero contamination free finish product can be achived

Superior functioning Agitator with speed controlling facilities

Ethernet system with PLC Control With 10 inch touch Screen HMI

Ph Controlling System With Peristaltic Pump 2 NOs- and Bottle Attachment With 0.2 Microne Air vent Filter(PTFE)

Agitation, Aeration, Temperature, pH, O2, Total Bio Mass and pCO2, pressure and level as an option
Upm have Facilities Inhouse Crane 10 ton capacity which is very easy to manufacture without and damage.
Upm have inhouse facilities for finishing of fermenter for attractive quality and performance for mirror pollish.
UPM Have Facilities Electric Panel Manufacturing and Programming As Per Automation Required By Customer.
we have more then 70+ customer All Over The World.
for more detail please Click Here
Uma Pharmatech Machinery Manufacturing Unit For Fermenter and Bioreactor Is Located In Ahmedabad , Gujarat, India. We Supply Our Fermentation Plant For API, Antibiotics, Probiotics, Biofertilizer, Biopesticides and Many More. We Supply Our Machinery in Ahmedabad, Vadodara, Rajkot, Surat, Navsari, Vapi, Morbi, Valsad, Bhavnagar, Jamnagar, Nadiad, Bhuj, Bharuch, Ankleshwar, Dahej, Gandhinagar, Ahmedabad, Mehsana, Himmatnagar, and Most City in Gujarat.