Autoclavable Glass Fermenter manufacturer For Laboratory
Autoclavable Glass and insitu ss Fermenter and bioreactor manufacturer For Laboratory uma pharmatech machinery is well known name.  UPM Developed Special Designed Lab Scale Autoclavable Glass Fermenter for research institute and training to students.
UPM  insitu ss Fermenter Pressurized Condition Can Not Be Achieve Due To Glass Body.
In This Model For Sterilization of Media Not Require any Heat Source Like  Steam Generator. This Model Can Be Autoclave After Removing clamps Of Motor.
Glass Fermenter is an important piece of equipment used in the fermentation process in the biotechnology industry. Fermentation is used to make a variety of industrial and pharmaceutical products, such as vaccines, enzymes, and antibiotics. A glass fermenter is a vessel used under controlled conditions to grow and maintain a specific population of microorganisms. Glass fermenter manufacturers are critical in providing high-quality fermenters to biotech companies. This article will go over the benefits of glass fermenters, different types of glass fermenters, factors to consider when selecting a glass fermenter manufacturer, top glass fermenter manufacturers, tips for selecting the right glass fermenter, and frequently asked questions.
Suppliers of API Manufacturing Plants in India:
India is a significant API supplier to the global pharmaceutical industry. The country is home to a huge number of API manufacturing plants that manufacture a diverse range of substances, from simple generics to complicated biologics.
Dr. Reddy's Laboratories, Sun Pharmaceutical Industries, and Lupin Limited are among the leading participants in the Indian API sector. These firms have vast experience in API manufacturing and are known for producing high-quality products while adhering to worldwide regulatory norms.
UPM fermenter is very east To operate and control with electronic easy programmable plc controlling system. UPM is provide Fully Automatic , Semi Automatic and Automatic  and manual fermenter for various application and customer requirement.
 UPM have inhouse manufacturing set up for design of fermenter, manufacturing of fermenter  up to 30000Litter fermenter.   Autoclavable glass bioreactor used for pharmaceutical and chemical industries in India.
Improved Productivity and Yield
One of the most significant advantages of bioreactors and fermenters is that they can significantly improve productivity and yield. The controlled conditions inside these vessels, including temperature, pH, oxygen supply, and nutrient availability, ensure that cells or microorganisms grow and reproduce at their optimal rates. As a result, the production of enzymes, biofertilizers, and other substances can be optimized, leading to higher yields and better productivity.
Reduced Production Costs
Bioreactors and fermenters can also help reduce production costs. These tools can produce large quantities of substances using a small amount of raw material and energy. The controlled conditions inside these vessels can also minimize wastage, leading to lower production costs. Moreover, the ability to optimize production can lead to more efficient use of resources, further reducing costs.
This Model Of insitu ss Fermenter of ump manufacturer Generally Used For R&D Purpose and in College. this model available for small scale capacity up to 20Litter.
Standard Model
5Litter insitu stainless steel Bioreactor Fermenter
10Litter insitu stainless steel Bioreactor Fermenter
Types of Bioreactors and Fermenters
There are several types of bioreactors and fermenters available on the market. The type of bioreactor or fermenter used for a particular application depends on several factors, including the type of cells or microorganisms being grown, the scale of production, and the desired end-product. Here are some of the most common types of bioreactors and fermenters:
Stirred-Tank Bioreactors
Stirred-tank bioreactors, also known as STRs or simply bioreactors, are the most common type of bioreactor used for industrial production. These vessels consist of a cylindrical tank with a stirring mechanism that keeps the cells or microorganisms in suspension and ensures proper mixing. STRs can be designed for various volumes, ranging from a few liters to several thousand liters.
Air-Lift Bioreactors
Air-lift bioreactors are similar to stirred-tank bioreactors but use air bubbles instead of a mechanical stirrer to mix the cells or microorganisms. These bioreactors are particularly useful for growing fragile cells or microorganisms that can be damaged by mechanical agitation.
Packed-Bed Bioreactors
Packed-bed bioreactors use a bed of solid material, such as plastic beads or glass beads, to support the cells or microorganisms. The cells or microorganisms grow on the surface of the beads and are supplied with nutrients and oxygen through the interstitial spaces between the beads. Packed-bed bioreactors are particularly useful for growing cells or microorganisms that require a large surface area for attachment.
Uma Pharmatech Machinery's legacy stretches far beyond the bustling streets of Surat. As an industrial fermenter manufacturer in India, their influence resonates throughout the nation's industrial heartlands. From the pharmaceutical hubs to the burgeoning biotech clusters, their fermenters become catalysts for progress, fostering a culture of self-reliance and technological evolution.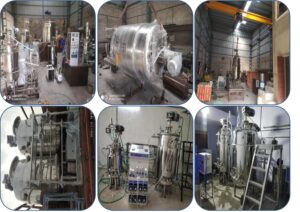 Cost of Fermenter For Industrial 1000L-100L
Considering the cost of fermenters goes beyond financial considerations. It's an investment in progress, innovation, and industrial advancement. Uma Pharmatech Machinery understands this profound impact, offering fermenters that embody not only engineering excellence but also the potential for transformative change across sectors.
The producers of laboratory fermenters are a significant force in India's scientific and industrial scene. They are experts in creating state-of-the-art fermentation machinery, promoting progress in biotechnology, pharmaceuticals, and research. To advance India's advancement in a variety of scientific fields, these manufacturers demonstrate knowledge, ensuring quality, innovation, and effective solutions.
Download Quotation of Lab Fermenter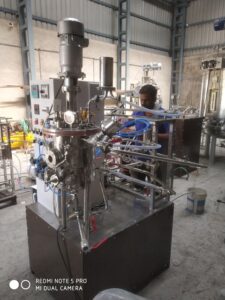 Specification of Insitu SS Fermenter For Laboratory
·       10 Litter SS Fermenter

·       Pt-100 Temperature Sensor and  Digital Temperature Measurement System

·       Mini Oil Free Air Compressor(1 Hp) Suitable For 10 Litter Fermenter

·       Air Flow Control Through Rota meter

·       Electromagnetic Agitator Speed Control Knob (RPM Controller) with control panel

·       Electric Steam Generator (All Ms Body-50Litter Tank with Water Level Tube)(Manual Feed Water-6kw)

 

1 Nos

Automatic Ph. Measurement & Control System

1 Nos

Extra Cost On Request

Do Sensor(Indian Made)

1 Nos

Extra Cost On Request
10L SS Fermenter With Oil Free Air Compressor and Electric Steam Boiler unit
Agitation Stirring Arrangement
Top Mounted Agitator Shaft With Lab Seal and 2 Nos Adjustable Ruston Turbine
PMDC Motor(RPM 1200)
DC/Ac Drive For Agitator Speed Controller Knob
Aeration Control System
Air Flow Rota meter With Manual Flow Control Valve
Pressure Control System
Pressure Regulator For Process Pressure Control
Digital Temperature Measurement System
Pt -100 Temperature Sensor For Accurate Temperature Measurement
Digital Temperature Indicator
Control Panel
Powder Coated Control Panel With Various Panel Mounted Accessories, Instruments and Controller
Fermenter Construction and Specification
Total Volune:10 Litter
Working Volume:70% Of Total Volume
L/d Ratio : 1: 1.5 to 2.5
Contact Part: SS 316L
Non Contact Parts: SS 304
Contact Part: SS 316L
Outer Finish : Matt Finished
Inner Finish : 220 Grit Finish
Motor : PMDC
Max. Output RPM Speed : 1200
Speed Controlling: Using Micro controller
Temperature Sensor : PT-100 Type(Sterilizable)
Temperature Controlling System : PID Control Digital Display
Air Inlet Filter : 0.2 Micron PP Filter
Air Outlet Filter : 0.2 Micron PP Filter
Air Outlet : Through Shell Tube Type Condenser ( Heat Exchanger)
Spurger  System : Ring Type Air Spurger System At Bottom
Mechanical Seal : For Zero Contamination and Reduce Air Leakage
Baffle : 4 Nos( Size Vessel Dia/10)
 Adjustable Impeller : 2 Nos Of Adjustable Ruston Turbine( Six Blade)(Vessel Dia/3)
In India, pilot scale fermenter manufacturers are vital catalysts for innovation. They produce advanced fermentation systems, crucial for scaling up biotechnological processes. These manufacturers drive research, bridging the gap between lab experiments and large-scale production, bolstering sectors like pharmaceuticals and biofuels, and contributing significantly to India's scientific and economic growth.
Specification of Pilot Scale Fermenter
Advantages of Glass Fermenter
Non-reactive nature of glass Transparency and monitoring
Sterilization
Economical
Durable
Types of Glass Fermenter
Batch Fermenter Continuous Fermenter
Anaerobic Fermenter
Aerobic Fermenter
Factors to Consider When Choosing a Glass Fermenter Manufacturer
Quality of Glass
Design and Engineering
Service and Support
Price of fermenter and bioreactor
Top Glass Fermenter Manufacturers
Maruti Engineering Works
Uma Pharmatech Machinery
ssfermenterbioreactor.com
UPM
Tejas Pharma Equipment
Uma Pharma
Fermenters for the Production of Biofertilizers
A fermenter is a device that aids the fermentation process by creating an optimum environment for microbial development. Fermenters come in a variety of sizes and forms, and can be customized to meet the specific needs of the biofertilizer manufacturing process. Batch fermenters and continuous fermenters are the two most frequent types of fermenters used in biofertilizer production.
Batch fermenters are the most basic and cost-effective type of fermenter. A fixed amount of substrate is put into the vessel in batch fermenters, and the fermentation process is repeated until the required level of microbe growth is achieved. When the procedure is finished, the fermented product is harvested and the vessel is emptied and cleaned in preparation for the next batch.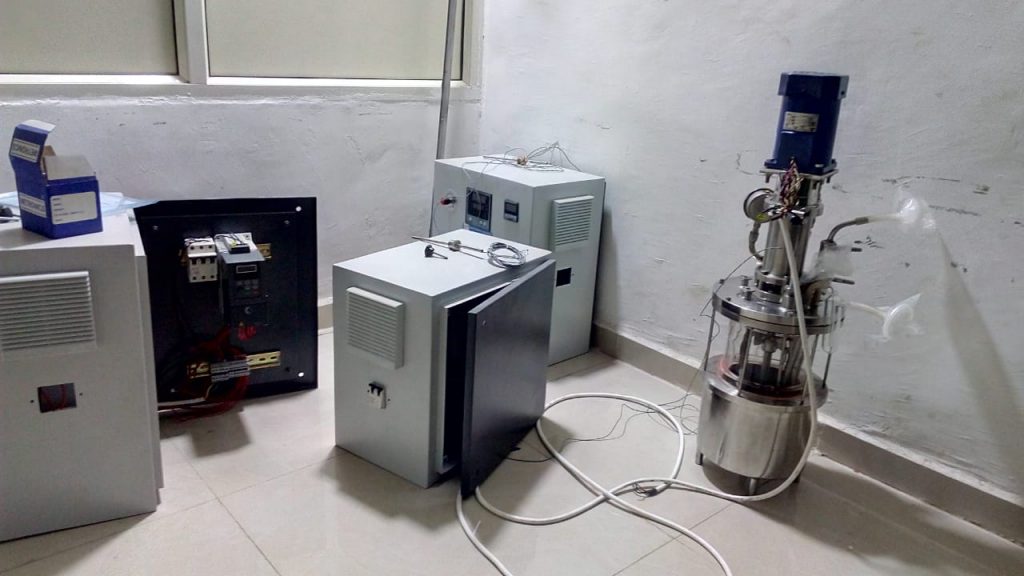 Advanced Features Of UPM Fermenter
Zero contamination free finish product can be achived

Superior functioning Agitator with speed controlling facilities

Ethernet system with PLC Control With 10 inch touch Screen HMI

Ph Controlling System With Peristaltic Pump 2 NOs- and Bottle Attachment With 0.2 Microne Air vent Filter(PTFE)

Agitation, Aeration, Temperature, pH, O2, Total Bio Mass and pCO2, pressure and level as an option
Bioreactors for the Production of Biofertilizer
Bioreactors are similar to fermenters in that they are intended to aid in the growth of microorganisms. Bioreactors, on the other hand, are more advanced than fermenters and allow greater control over the fermentation process. Bioreactors are commonly used to produce high-value biofertilizers that necessitate a more accurate fermentation process.
The fermentation process in bioreactors is managed by monitoring several factors such as pH, temperature, oxygen level, and nutrient content. Batch bioreactors, continuous stirred-tank bioreactors, and airlift bioreactors are all examples of bioreactor configurations. The type of bioreactor employed is determined by the unique needs of the biofertilizer manufacturing process.
Upm have Facilities Inhouse Crane 10 ton capacity which is very easy to manufacture without and damage.
 Upm have inhouse facilities for finishing of fermenter for attractive quality and performance for mirror pollish.
UPM Have Facilities Electric Panel Manufacturing and Programming As Per Automation Required By Customer.
we have more then 70+ customer All Over The World.
for more detail please  Click Here
Enzyme Production Fermenter:
A fermenter is a type of bioreactor specifically built for enzyme production. Enzymes are vital proteins found in a variety of sectors, including food, pharmaceuticals, and textiles. Fermenters are used to grow microorganisms that produce enzymes in high quantities, such as bacteria, yeast, and fungi.
One of the primary advantages of employing a fermenter for enzyme production is that it enables for large-scale enzyme manufacturing. This is significant because enzymes are frequently utilised in huge amounts in industrial processes. Depending on the individual requirements of the enzyme manufacturing process, fermenters can be built to generate enzymes in batch, fed-batch, or continuous modes of operation.
Uma Pharmatech Machinery Manufacturing Unit For Fermenter and Bioreactor Is Located In Ahmedabad , Gujarat, India. We Supply Our Fermentation Plant For API, Antibiotics, Probiotics, Biofertilizer, Biopesticides and Many More. We Supply Our Machinery in Ahmedabad, Vadodara, Rajkot, Surat, Navsari, Vapi, Morbi, Valsad, Bhavnagar, Jamnagar, Nadiad, Bhuj, Bharuch, Ankleshwar, Dahej, Gandhinagar, Ahmedabad, Mehsana, Himmatnagar, and Most City in Gujarat.
It's important to pick the proper equipment when it comes to industrial operations like fermentation and bioreactor production. Given the abundance of products on the market, this can be a difficult undertaking. We will give you information about the top producers, suppliers, and exporters of industrial fermenters and bioreactors Here.
Manufacturer of Bioreactors and Industrial Fermenters
Your needs-specific equipment of the greatest quality should be available from a reputable manufacturer of Fermenter and Bioreactor. UPM Inc. is one such manufacturer. They have accumulated years of experience in the field and have established a reputation for giving clients high-quality equipment.
They use cutting-edge technology to construct their industrial fermenters and bioreactors, guaranteeing excellent efficiency and ideal performance.
Manufacturer of Pilot Scale Fermenter and Bioreactor
When it comes to pilot scale fermentation and bioreactor manufacturing, it is important to choose a manufacturer that can provide you with high-quality equipment. One such Fermenter manufacturer is Uma Pharmatech Machinery. They have years of experience in the industry and have built a reputation for providing customers with top-quality equipment.
Their pilot scale fermenters and bioreactors are built using the latest technology, ensuring high efficiency and optimal performance. They also offer custom solutions to cater to the specific needs of their clients.
Advantages of Glass Fermenter:
When compared to other materials such as plastic or stainless steel, a glass fermenter is far superior. Here are some of the benefits of using a glass fermenter:
Glass is non-reactive, so it does not react with the substances present in the fermentation process, ensuring the purity of the final product. It is non-toxic, and during the fermentation process, no harmful substances are released.
Transparency and monitoring: Because glass is transparent, visual monitoring of the fermentation process is possible without disturbing the environment. This allows scientists to monitor cell growth, nutrient uptake, and metabolic activity, ensuring optimal microbial growth conditions.
Glass can withstand high temperatures during sterilization processes without being damaged, resulting in a sterile environment. It can be sterilized in several ways, including autoclaving and dry heat sterilization.
Glass fermenters are more cost effective than Steel Body Fermenter because they are more durable and have a longer lifespan. They require little maintenance and do not need to be replaced frequently.
Glass fermenters are extremely durable and resistant to wear and tear, allowing for long-term use. They can withstand high pressure and are resistant to thermal shock, which prevents breakage.
Different Types Of Fermenters
Fermenter are Categorized as Per Volume Of Fermenter and Bioreactor in Three Types. Industrial Fermenter System(Automatic/ Semi Automatic) Pilot Scale Fermenter(Fully Automatic) Laboratory Scale Fermenter(Manual Operating System)
There are two Types Of Fermentation Process In Microbiology As Per Respiration System. 1) Aerobic Fermentation System 2) Anaerobic Fermentation System Aerobic Fermentation Occur With the Presence Of Oxygen In Bioreactor. Anaerobic Fermentation System Occur With Absence Of Oxygen In Fermenter System. In Uma Pharmatech Fermenter System Both Process Can Process With Specific Design.
Enzyme Manufacturing Bioreactor:
Bioreactors are another form of vessel that can be utilized for enzyme production. Bioreactors, like fermenters, are intended to develop microorganisms that create enzymes. Bioreactors, on the other hand, can be used to produce additional bioproducts such as antibiotics, vaccines, and biofuels.
Bioreactors can be configured to run in a number of modes, including batch, fed-batch, continuous, and perfusion. They can also be outfitted with a variety of sensors and controls for monitoring and adjusting important process factors like temperature, pH, dissolved oxygen, and nutrient levels.