Insitu Stainless Steel fermenter manufacturer in pune
For Fermenter Manufacturer in Pune Where Uma Pharmatech Machinery Is Trusted Manufacturer of Insitu Stainless Steel Fermenter Manufacturer in Pune. We Are Supplying Low Cost Fermenter With   Inbuilt Heating System at Reasonable Fermenter Prize in India-Maharastra-pune.
End uses of fermentation technology are Important. Uma Pharmatech Machinery create to the Research laboratories, Research institution and industrial fermentation plant setup that require  Industrial fermentation Skil and experience by providing Best Fermentor Manufacturer in pune-maharastra. Using Our experience we Manufacture and supply and export upstream Process and downstream  Process of the Microbiology Heart of the process, these fermentor and bioreactor form the Core of a full integrated bioprocess and Bio Engineering.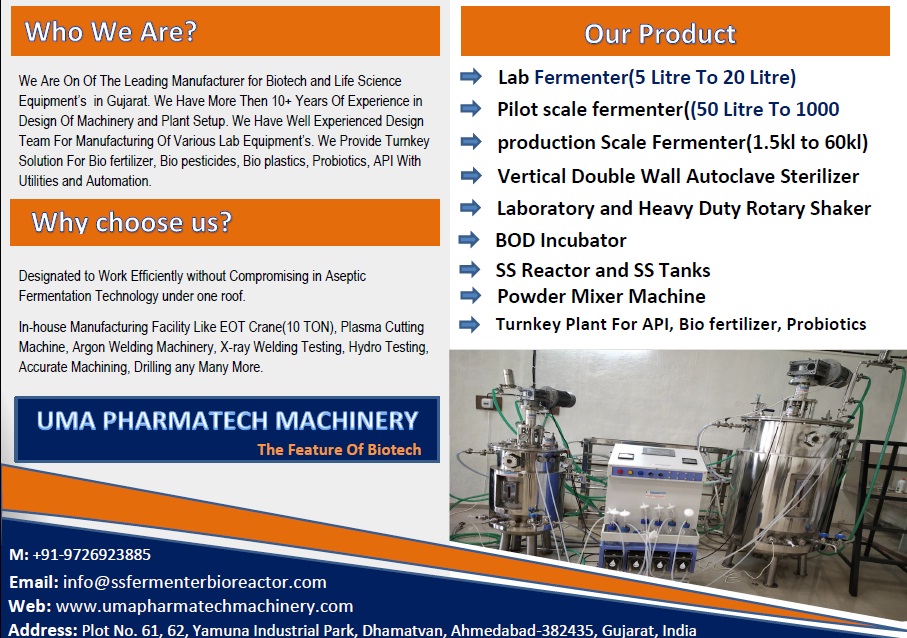 Uma pharmatech Machinery deal in This Three Category scale for bioreactor manufacturer in pune-maharastra
• Laboratory bioreactor and fermenter from  1 Ltr To  25 Ltr
• industrial  bioreactor and fermenter from  50 Ltr To  2000 Ltr
• Production scale bioreactor and fermenter from 2kl To  30kl fermentation plant setup
We are Dealing In Maharashtra Main Agriculture and Biofertilizer and Biopesticides Manufacturer in Maharashtra state like:. – 
Pune, Nagpur, jalgoan, nanded, Aurangabad, Mumbai, Vasai, Nashik, Dhule, Nagpur, Ahmednagar, Solapur, Panvel, Satara, Boisar, Ratnagiri, Kolhapur, Barshi, Sangli, Latur, Jamkhed, Bhusawal, Lonar, Karanja, Navi Mumbai, Amravati, Akola, Shegaon, Thane, Kopargaon.
Uma Pharmatech Machinery Offerings-
• Bio-Reactors And Fermenters
• Bio – Waste Decontamination Systems / Sterilization Systems /
Inactivation Systems
• PWDS, WFIDS, CSDS Systems
• CIP Plants
• Pharmaceutical Machinery and Bio-pharma Custom Built
Modules
• Mixing And Blending Vessels
• Dairy/Starch Projects
• Drying And Evaporation Projects
• Biorefineries
• Piping Engineering
• Plug-in Temperature / Brix / pH / Pressure/ Flow Control Modules
• Electrical And Automation Engineering
• Flow Control Equipment
• All Types Of Valves And Valve Automation
We are 'Professionals in Process/ Product Technologies' with following
expertise-
• Conceptualization and Engineering of Projects
• Module and skid building
• Custom-built solutions
• Innovative hygiene Products for Pharma/ Dairy Industry
• Expertise in Pharma, Food, Natural resource based projects
• Business partners of world class products from Europe and USA