Rotary Shaker Manufacturer
We manufactur rotary shaker for laboratory in india. UPM Is Leading Rotary Shaker Manufacturer in India. We Are Manufacturing Industrial and Lab Shaker.  because of Various Application in Biotech and Life Science Laboratory we provide reasonable rotary shaker prize .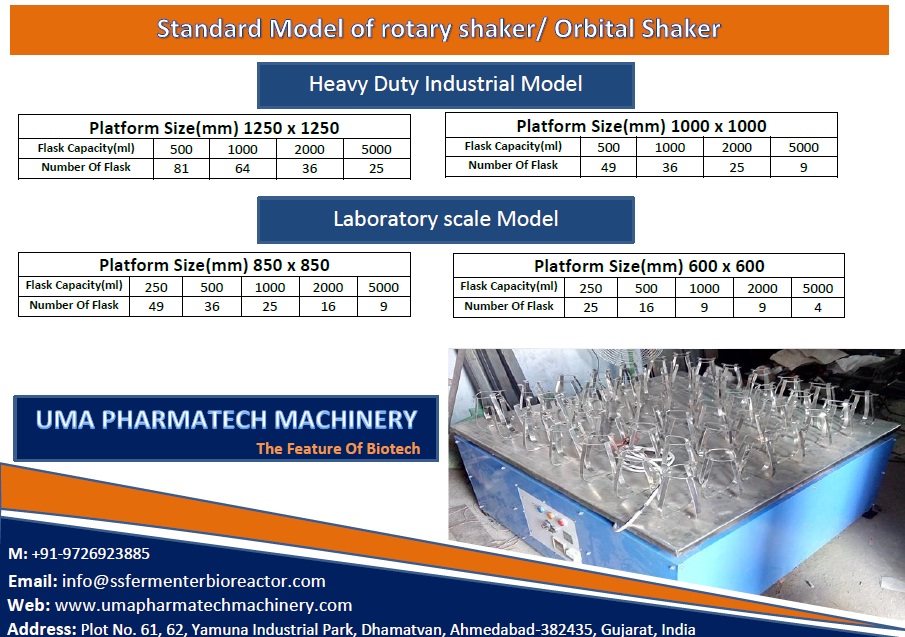 We Manufacturer Laboratory Flask Shaker and Heavy Duty Rotary Shaker In India. Our Manufacturing Facility Located In Gujarat, Ahmedabad. Our Heavy Duty Rotary Shaker Is Used In Mass Production Of Biofertilizer Culture With Various Product At a Time. Because of Number Of Bacteria and Fungus Batch Can Be Taken Same Time. This Is Given Too Much Benefit To Our Customer When Urgency Create  Due To Lake Of Fermenter. UPM Manufacture, Supply and Export Orbital Shaker In Maharashtra, Karnataka, Punjab, Haryana, Telangana, Tamilnadu, Kerala, Rajasthan, Odisha, West Bengal, Mizoram, Utter Pradesh, Delhi, Sikkim, Madhya Pradesh, Indore, Andhra Pradesh and Many More Agriculture States In India.
Uma Pharmatech Machinery Export Heavy Duty Rotary Shaker In USA, UK, Tanzania, South Africa, Philippines, Canada, Mexico, Japan, UAE, Oman, Dubai, Vietnam, Ethiopia, Thailand, Spain, France, Greece, Australia and So On Agriculture Based Countries In The World.
We are Manufacturing Various Types Or Rotary Flask shaker and Orbital Shaker.
Laboratory rotary Flask Shaker
Industrial Orbital Shaker
Single Decker Rotary Shaker
lab orbital shaker
Bacteriological Incubator shaker
BOD Incubator Shaker With Heating and Cooling
Orbital Shaker
DOUBLE DECKER HEAVY DUTY ROTARY SHAKER
Uma Pharmatech Machinery Provide low cost because inhouse production Heavy duty and laboratory rotary shaker prize in India. Rotary Shaker Instrument is used for biotech laboratories and research institute like biological studies and culture growth studies is main application of rotary shaker use.
Use Of Rotary Shaker for Large Production Heavy rotary shaker . Mostly Biofertilizer manufacturer and Biopesticides Manufacturer use Heavy duty rotary shaker and Double Decker Rotary Shaker. For Different Culture in Small Quantity. so Customer can Get Different Product at same time.
For Lab Research Generally Mini Rotary Shaker is used in Microbiology laboratories. For Small Mini orbital shaker Remi flask shaker is Famous. in Indian market for Branded laboratory shaker UPM is in top 3 possision.
Uma Pharmatech Machinery Manufacture Orbital Shaker and Supply Local Cities Of Gujarat Like Ahmedabad, Vadodara, Surat, Jamnagar, Bhavnagar, Rajkot, Valsad, Vapi, Navsari, Ankleshwar, Surendranagar, Bharuch, Morbi, Dahej, Bhuj, Mehsana, Gandhinagar Due To Easy To Collect At Our Factory By Road.
UPM Supply Laboratory Rotary Shaker In Most Famous Cities Of India Like Mumbai, Delhi, Bangalore, Hyderabad, Kolkata, Chennai, Mohali, Ahmedabad, Pune, Jaipur, Lacknow, Kanpur, Jaipur, Indore, Nagpur, Thane, Bhopal, Vishakhapatnam, Vadodara, Ghaziabad, Ludhiana,  Nashik, Jalgaon, Faridabad, Rajkot, Srinagar, Varanasi, Aurangabad, Amritsar, Ranchi, Odisha, Coimbatore, Vijayawada, Jodhpur, Raipur, Kota, Guwahati, Chandigarh, Chandigarh, Solapur, Guntur, Kerala, Amravati, Noida, Kochi and Many More Biotech and Agriculture Based City In India.