Pilot Scale Fermenter Manufacturer
UPM Is Trusted for Pilot Scale Fermenter manufacturer in india. Uma Pharmatech Machinery is Leading in Pilot Scale Fermenter Manufacturing  and exporter and supplyer in india.
Download specification of fermenter setup
At the heart of life science and biopharma manufacturing operation  lie bioreactor and fermentor.
UMA PHARMATECH MACHINERY offer a Total range of skid-mounted cell culture bioreactor and fermenter for the life science and biotech industries. 
Designs for both mammalian and prokaryotic system range from a working volume of 5 to 30000 L.
Uma Pharmatech Machinery process experts ensure the integration of the biological portion of a manufacturing process with both the facility design and Pilot Scale Fermenter manufacturer in india surrounding process operation.
Uma Pharmatech  bioreactors and Pilot Scale fermenter manufacturer are designed and manufactur with support Programme such as Raw Material preparation and innoculation. UPM specialy design and fabrication technique created by the regulatory requirement on the life science industry and bio process and bioengineering.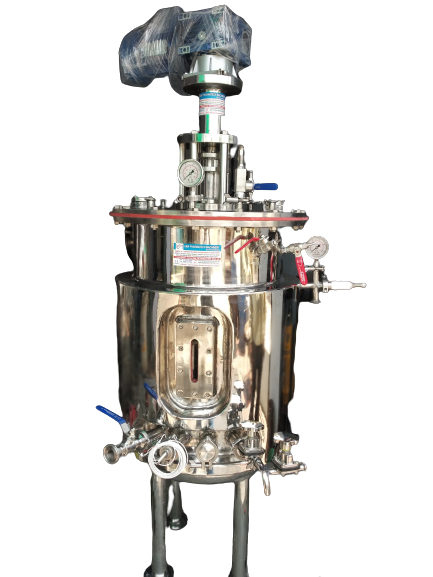 Uma Pharmatech Machinery Pilot Scale Fermenter and Biorector Manufacturing Unit Located In Ahmedabad in Gujarat -India. We Suply  Fermenter and Bioreactor in West Bengal And Its Agriculture Area Like.:-
Bagalkot
Mandya
Mysuru
Shivamogga
Davanagere
Koppal
Hassan
Vijayapura
Bidar
Ballari
Haveri
The systems are supplied as completely tested units, with all Equipment's and machinery and instrument, controls and accessories necessary for installation. This Clamp With Plug n Pa approach to the heart of the manufacturing process ensures that the culture systems are ready to go when the rest of the project is complete
Brazil, Argentina, Bangladesh, Albania, Us, Uk, Nepal,