Limpet Coil Reactor vessel
We Uma Pharmatech Machinery Manufacture Limpet Coil Reactor vessel manufacturer in Ahmedabad for stainless steel material. Uma Pharmatech Machinery Have Experience More Than 7 Plus Years of Experience in Design Of Various Types Of limpet coil reactor vessel Manufacturer in Ahmedabad.
We Also Provide Agitator For Your Existing Reactor With High Efficiency With Low Power Consumption Using Our Design Skill in This Field.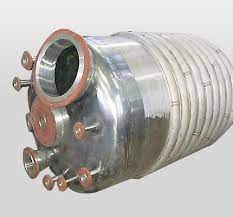 Reactor Vessel Manufacturers In India
Umapharmatech Agitator Is Designed By Standard Mechanical Engineering Calculation Based Depends On Fluid In jacketed Reactor. We Are Located Dhamatvan-ahmedabad-gujarat.
We Are Also Manufacturing various types of reactor machinery like:
Pressure Vessel
Process Reactor
Ss Mixing Tank
SS Storage Tank
Horizontal and Vertical Storage Tank
Limpet Coil Reactor
We are Manufacturing Different Types of Agitator Likewise:
Open Tank Agitator
Common Manhole Agitator
Closed Stirrer Agitator
Pressurized Agitator With Mechanical seal
We Are Manufacturing Various Model Of Impeller Like:
Ruston Turbine Six Blade
Paddle Type
Pitch Blade Turbine
Hydrofoil
Tickler
Anchor Turbine.
Uma Pharmatech Provide All Testing Credencial Report For Machinery Like FAT, Hydro Test, Air Test, Penentration Test, Radiography Test.
Stainless Steel Reactor Manufacturers
Our Reactor Is Used For Many Application Like:
Animal feeds supply.
bio-Fertilizers and bio pesticides.
Chemical industries.
Tea or Coffee manufacturing.
Spice manufacturing in food industries.
Birds and animal seeds.
Abrasives product manufacturing.
resins manufacturing.
bio Pesticides and bio herbicide product.
Epoxy and resin manufacturing.
Pet animal foods supply chain.
Bakery product.
Eye and shadow.
Pharmaceuticals bulk drug manufacturing.
Face cream manufacturing.
Pigments manufacturer.
Carbon black ash mixing
anti Fire retardant manufacturing.
Polyethylene product production.
PVC compounding production.
Cleaning compound production.
Dietary supplement.
soft drink blending.
Talcum powder mixing.
Dried and food product. production
Laundry and  liquid detergent manufacturing.
UPM is a distinguished name in the realm of reactor manufacturing, operating in Gujarat, India. Our state-of-the-art facilities and experienced team enable us to design and produce a wide range of reactors to meet various industrial requirements. With a focus on quality, innovation, and precision engineering, we deliver reactors that are reliable, efficient, and tailored to your specific needs. As a leading player in the industry, we take pride in contributing to the growth and success of diverse sectors through our high-quality reactor solutions.