lab scale fermenter prize in india
upm is leading manufacture of lab scale fermentor and bioreactor at reasonable price in India. we are manufacturing Industrial and laboratory scale fermenter and bioreactor at value of money with best quality e of fermenter without compromise in quality.
our laboratory fermenter from comes with utilities like boiler steam generator chiller compressor structure working platform panel for automation with compact size suitable for lab.
we have two types of models for fermenter in research lab
What is Industrial Scale Fermenter?

Fermenters and bioreactor Volume Higher then 10000Litter is covered in Industrial Bioreactor. Uma pharma tech Machinery is One Of The Trusted Manufacturer Of Fermenter and Bioreactor From India. Industrial Bioreactor Cost Start From 40 Lac In UPM-Ahmedabad Gujarat india.

Cost Of 1000L Fermenter Made Of Uma Pharmatech Machinery is Start From 8Lac In Ahmedabad Gujarat. Total Cost Of Fermenter Plant With Utility is Rs 38Lac/ Set. UPM Made Fermenter Comes With Utility Like Chiller, Oil Free Air Compressor, Steam Boiler, SS Skid and Pipeline, Control Panel, Ph Measurement and Control. Temperature and Pressure Control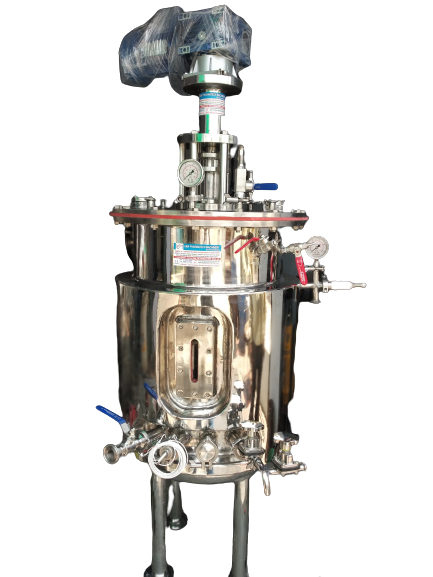 laboratory glass for mental is not suitable for pressure application it is autoclavable for mentor which can be sterilized by putting the bioreactor in in vertical or horizontal autoclave.
Prize of Manufacturing Fermenters and Bioreactors in India
There are many Prize to manufacturing fermenters and bioreactors in India. One of the most significant benefits is the availability of a highly skilled workforce. India has a large number of experienced engineers and technicians who have a deep understanding of the bioprocessing industry.
Another advantage is the cost-effectiveness of manufacturing in India. The cost of labor and raw materials is lower in India compared to other countries, making it possible to produce high-quality equipment at a lower cost.
The Indian government has also taken steps to support the growth of the bioprocessing industry in the country. They have provided tax incentives, subsidies, and other support to encourage the growth of this sector. This has helped to attract a number of international companies to set up operations in India.
Manufacturer of Laboratory Fermenter
There are many experienced manufacturers of fermenters and bioreactors in India. Some of the key players in this market include:
Uma Pharmatech Machinery
fermenter bioreactor shaker autoclave manufacturer
Maruti Engineering Works
EKATO India Private Limited
UMA PHARMA | fermenter | bioreactor | shaker | Autoclave | fermentor
These companies have a reputation for producing high-quality equipment that meets the needs of customers in the bioprocessing industry. They offer a wide range of products and services, including design, fabrication, installation, and maintenance of fermenters and bioreactors.
Laboratory Scale Fermenter Manufacturer at Low Cost
Uma Pharmatech Machinery Provide Autoclavable lab scale fermenter for Indian Biotech and Pharma Research Institutes. We Also Supply Laboratory Scale Fermenter For Private Companies Who Want Re Research and Scale Up Production with Economic Laboratory Fermenter Prize. 
UPM Laboratory Fermentor Comes With Insitu and Autoclavable lab scale fermentor manufacturing setup with all utilities like chiller, compressor, boiler, autoclave, agitation, aeration, plc control.
Fermenter Cost in India
our laboratory fermenter price is very low comparative with brands like sytorious, fermenta, solaris biotech, lambda etc..
What Is Pilot Scale Fermenter?
Pilot Scale Fermenter Is Middle Scale Fermenter Between Laboratory Fermenter and Industrial Fermenter. Lab Scale Fermenter is Also Called as Bioreactor or Laboratory Fermenter in India. Pilot Cale Fermenter Cover Volume From 100 Litter To 1500 Litter Working Volume. Quality Of UPM Fermenter Is Superiors Then Other Manufacturer at Affordable.
Price Of Pilot Scale Fermenter Start From 6.25 lac. Uma Pharmatech Machinery is One Of the Trusted Manufacturer and Supplier Of Pilot Scale Fermenter and Bioreactor In India. UPM Provide Fermenter With Utilities Like Steam Boiler, Oil Free Air Compressor, Chiller, Fermenter and Bioreactor, Skid and Pipeline Platform, Ph Control, PLC Based Conrol System Under One Roof.
Pilot Scale Plant Play Vital Roll In Manufacturing Of Enzymes and API Manufacturing in Microbiology Laboratory. In Pilot Plant Microbiologist can Scale Up Batch From Lab Scale To Industrial Scale. As Per Result We Can Change Process Parameter Of Fermenter Bioreactor To Get Desire Product as Per Pilot Scale Fermentation Result.
Manufacturer of Fermenter and Bioreactor in India: Automatic Control
Fermenters and bioreactors play a crucial role in modern day biotechnology and pharmaceutical industries. They are essential equipment used for the production of various biopharmaceuticals, enzymes, vaccines, and other bioproducts. As the demand for these products continues to grow, the demand for high-quality fermenters and bioreactors is also increasing.
India has become one of the leading manufacturers and Indian Exporters of these essential equipment, and it has a lot to offer in terms of quality and affordability. With a large number of experienced manufacturers and Suppliers and a highly skilled workforce, India is poised to continue its growth in this sector.
Laboratory Fermenter Vessel Manufacturer in India
Fermenters and bioreactors are specialized vessels used in bioprocessing. Lab Fermenters are used for the production of microbial or enzymatic products, while bioreactors are used for the cultivation of cells and tissues. Both types of equipment are designed to provide the optimal conditions for cell growth and product production.
They come in a variety of shapes, sizes, and designs, and each type has its own unique features and benefits. Some of the most common features include temperature control, pH control, aeration, and agitation. The design of the fermenter or bioreactor is crucial to the success of the bioprocess, and it is important to choose the right equipment to meet the specific needs of each application.
Suppliers of Laboratory Glass Fermenter
We Manufacturer and supply lab scale glass fermenter for research lab in Vadodara, Surat, Punjab, Maharashtra, Mumbai, Pune, Rajasthan, Haryana, Chennai, Karnataka, Tamilnadu, Telangana, Andhra Pradesh, Assam, Gujarat, Madhya Pradesh, Rajasthan.
Low Cost Fermenter Suppliers in India
Uma Pharmatech machinery main unit is lockated in ahmedabad-gujarat-india and supply product and services in lab scale fermenter at very low prize  in all over the indian states like Karnataka, Maharashtra, Punjab, Haryana, West Bengal, Tamilnadu, Andhra Pradesh, Madhya Pradesh, Assam, Chhattisgarh, himachal Pradesh, Jharkhand, Kerala, Manipur, Meghalaya, Mizoram, Nagaland, Odisha, Rajasthan, Tamil Nadu, Telangana, Tripura, Uttarakhand.
Fermenter For Biotech, Pharmaceutical and Agriculture
When choosing a manufacturer of fermenters and bioreactors in India, there are several factors to consider. Some of the most important factors include:
Quality of the Lab Fermenter and Bioreactors
Experience and expertise of the Industrial and Laboratory Fermenter manufacturer
Customer service and support For Bioreactors
Pilot Scale Bioreactors Price and value for money
It is important to choose a manufacturer that has a proven track record of producing high-quality equipment that meets the specific needs of the customer. The manufacturer should also have a team.