lab scale fermenter prize in india
upm is leading manufacture of lab scale fermentor and bioreactor at reasonable price in India. we are manufacturing Industrial and laboratory scale fermenter and bioreactor at value of money with best quality e of fermenter without compromise in quality.
our laboratory fermenter from comes with utilities like boiler steam generator chiller compressor structure working platform panel for automation with compact size suitable for lab.
we have two types of models for fermenter in research lab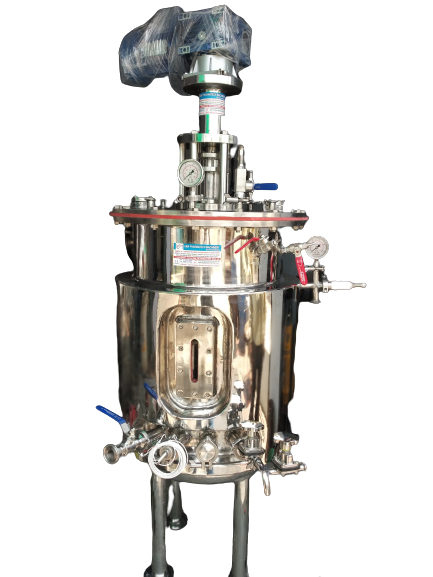 laboratory glass for mental is not suitable for pressure application it is autoclavable for mentor which can be sterilized by putting the bioreactor in in vertical or horizontal autoclave
Uma Pharmatech Machinery Provide Autoclavable lab scale fermenter for Indian Biotech and Pharma Research Institutes. We Also Supply Laboratory Scale Fermenter For Private Companies Who Want Re Research and Scale Up Production with Economic Laboratory Fermenter Prize. 
UPM Laboratory Fermentor Comes With Insitu and Autoclavable lab scale fermentor manufacturing setup with all utilities like chiller, compressor, boiler, autoclave, agitation, aeration, plc control.
We Manufacturer and supply lab scale glass fermenter for research lab in Vadodara, Surat, Punjab, Maharashtra, Mumbai, Pune, Rajasthan, Haryana, Chennai, Karnataka, Tamilnadu, Telangana, Andhra Pradesh, Assam, Gujarat, Madhya Pradesh, Rajasthan.
Uma Pharmatech machinery main unit is lockated in ahmedabad-gujarat-india and supply product and services in lab scale fermenter at very low prize  in all over the indian states like Karnataka, Maharashtra, Punjab, Haryana, West Bengal, Tamilnadu, Andhra Pradesh, Madhya Pradesh, Assam, Chhattisgarh, himachal Pradesh, Jharkhand, Kerala, Manipur, Meghalaya, Mizoram, Nagaland, Odisha, Rajasthan, Tamil Nadu, Telangana, Tripura, Uttarakhand.