Reactor Vessel With Agitator
UPM Is one of the leading Manufacturer and  Supplier Of SS Reactor Vessel in Ahmedabad. We are Pioneer Manufacturer and exporter of Reactor vessel. UPM Supply Reactor In Pharmaceutical, API, Biotech, Pigment, Chemical, Dyes, Intermediates, nutraceutical.
Uma Pharmatech Is recognized Company Involved in Fabrication extremely efficient SS Reactor Which is the Corner Parts of the SS Vessel coolant system.
UPM Reactor With Agitator designed by us is Generally used in Biotech Plant, pharmaceutical industry, chemical plant, etc.
stainless steel reactor manufacturers are at the heart of a API plant. liquid Slurry may be mixed into Stainless Steel Vessel using large.
Stainless Steel Reactor Manufacturers
These stainless steel liquid mixing tanks are highly efficient to use with its robust mixing structure for homogeneous mixing of different chemicals and ingredients.
UPM is an extremely efficient Reactor Pressure Vessel Manufacturer and Supplier  company from Ahmedabad, Gujarat, India.
Construction Of SS Reactor Vessel
SS Jacketed – SS316 limpet coil Vessel for heating & cooling tested for 4kg/cm²
Propeller shaft, Ruston turbine will be available on Demand
Pharma cleaning is done internal & external to remove Cross contamination.
Material Used Low Carbon steel, mild steel, stainless steel, 304, 304 L, 316, 316 L, 317 L
Blades with different shapes such as: Paddle Form, Frame Form, Scrapper Form.
Industrial Agitator Manufacturers
Uma Pharmatech Machinery Focus On industrial agitator manufacturing from India. We have Experienced Professional For Manufacturing industrial Reactor and Vessel. UPM Have Facility To Manufacturer Up to 60 kl Reactor Vessel. In House EOT Crane Having capacity 10 Ton is Very Useful In Manufacturing Of Industrial Reactor, Chemical Reactor and Process Vessel With Starrier
Features Of Reactor Agitator
Zero Vibration
Compact in Size
low power consumption
high volume
high efficiency.
Application of Reactor Vessel
Uma Pharmatech Fabricate  reactor with agitator used in the first industrial Scale, Very Suitable for biotech, Agro chemical industry, pigments, Beverages and food Industry, UPM SS Reactor Vessel widely used in Semi Solid Resin,  Silicon Rubber, Bio Fertilizer and BioPesticide, Glue, Intermediates, Probiotics. API, Pharma, Chemical, Minerals, Guar Gum, Starch etc. Pigment Colors & etc.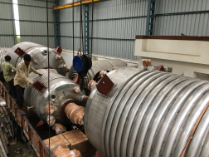 Elevate your industrial processes with a distinguished Agitator Manufacturer in Gujarat – Uma Pharmatech Machinery. Renowned for precision engineering and innovative agitator designs, their legacy spans sectors, setting new benchmarks in reliability and performance. Trust their expertise to optimize mixing efficiency across Gujarat's industrial landscape. As the embodiment of advanced technology and expertise, they transform manufacturing processes for superior, consistent results. Choose Uma Pharmatech Machinery as your Agitator Manufacturer in Gujarat to enhance your operations and secure unmatched solutions that prioritize excellence and innovation, contributing to your success in the dynamic industrial hub of the region.