JACKETED REACTOR MANUFACTURER
For Manufacturing Of Industrial SS Jacketed Reactor Manufacturer In India Where UPM is Placed Top 3 Position In Gujarat. We Have Experienced Contractors and Manpower For Manufacturing Of SS Reactor any Types Like Jacketed Or Limpet Coil Reactor. Generally Up to 5 Kl Jacketed Reactor Vessel Is Preferable Due To Low Labour and Small Diameter. In Case Of Jacketed Vessel Mass Transfer Rate and Heat Transfer Rate Is Slower then Limpet Coil Reactor. In Pharmaceutical MSME Generally Use SS Jacketed Made Vessel Due To Small Volume Research and High Risk Of Contamination In Fed Batch Reactor. 
SS Reactor Manufacturer
We are Manufacturing Chemical Reactor and Process Reactor As Per Demand Of Customer Specification. In Chemical and Pigment Manufacturer Generally Prefer Mild Steel Material Due To Durable Finish Product . In Process Reactor Mostly Used Stainless Steel Material With Grade Of SS34/ SS316. If Process Of Fermentation Or  Respiration then SS 316 Material Is Preferable . In Process Vessel Agitator is Also Require in Reactor.
Advantages of Reactor Pressure Vessel Manufacturer
Main Advantafes Of Reactor Manufacturer Is That They Have Already Manufacturing Equipment To Manufacturer Reactor Vessel Easily. Very Costly Electrical Equipments Used In Manufacturing Of Jacketed Reactor With Industrial Agitators In Gujarat. They Have Technical Staff and Manpower To Fabricate Reactor Vessel Without any Effort. Due To ETO Crane Inhouse Facility They Can Easy Turn The Job As Per Requirement Of Operation. UPM Have Inhouse Roller Bending MAchine, Dish End Facility and Limpet COil Facility To Complete Task at Very Short Time. Accurate Dimension is Require To Get Quality Chemical Reactor In Process Industry. Automatic CNC Plasma Cutting Machine and Automatic Laser Cutting MAchine Is Basic Requirement For Best Quality Manufacturing Of Reavtor Vessel In India. Due To Daily Experience In Limpet Coil Reactor Manufacturing In UPM People Easily Set up Limpet Coil In Reactor Vessel.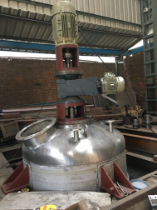 UPM Make SS Reactor Finished 220 Gril Matt Finished at Outer Side and Mirror Finished at Inner Side. Uma Pharmatech Have Special Grinding Machine With Flexible Shafting For Buffing and Grinding. We Use Special Grade Abrasive Wheet To Mirror Finish in any Reactor and Vessel in Ahmedabad Gujarat.
UPM is a distinguished name in the realm of reactor manufacturing, operating in Gujarat, India. Our state-of-the-art facilities and experienced team enable us to design and produce a wide range of reactors to meet various industrial requirements. With a focus on quality, innovation, and precision engineering, we deliver reactors that are reliable, efficient, and tailored to your specific needs. As a leading player in the industry, we take pride in contributing to the growth and success of diverse sectors through our high-quality reactor solutions.